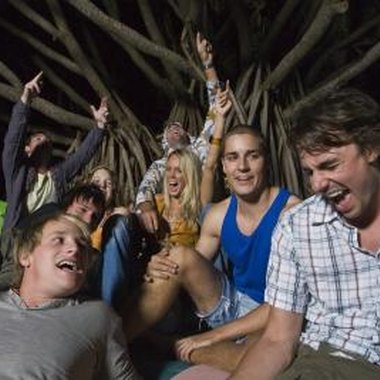 When it comes to throwing a party, teens are concerned about having a party that guests talk about for days, while parents want to throw a safe party that will not break the bank. Before choosing a party theme, parents should work with teens to set a budget, create a guest list, and establish some ground rules for the party. Once these details are planned, set teens free to plan the rest of the party.
Dance Parties
Dance parties provide an upbeat party theme. Throw a dance party by renting out a local dance club and hiring a popular DJ or local band to provide the entertainment. If renting a venue is too expensive, clear out a room in the house and purchase black lights to add ambiance to the room. During the party, stage a dance-off to allow guests to show off their dancing skills or hold a karaoke competition. Parents of younger teens will want to supervise the dancing to make sure teens of the opposite sex do not get too close or dance inappropriately.
Pool Parties
Pool parties provide a way to cool off during the summer. Hold the party in a backyard with a pool or rent out a local pool. In the winter months, rent an indoor pool. Serve hamburgers, hot dogs and other picnic food. Provide guests with squirt guns to use inside and outside the pool. Play water volleyball and hold diving competitions. Hire a DJ to play near the pool and create a more energetic mood.
Sports Parties
For boys, sports parties provide a chance to be active. Hold the party at a local park and play a game of kickball, soccer, football, basketball or baseball. Take a group of friends bowling or to play laser tag or rent out a paintball park for some messy fun. For a less active party, buy tickets for a block of seats at a local college game or a minor league baseball game.
Casino Parties
Most teenagers want to feel sophisticated and older. A casino party will help teenagers feel like adults. Set up card tables for different casino games such as blackjack, poker and roulette. Bring in family members and friends to act as dealers. Give teens play money to use for the night and set up an auction where teens use their winnings to bid on party favors such as popular DVDs, CDs, jewelry and electronic equipment. Serve punch in champagne classes and fancy hors d'oeuvres to make teens feel more sophisticated.
Photo Credits
Jupiterimages/BananaStock/Getty Images