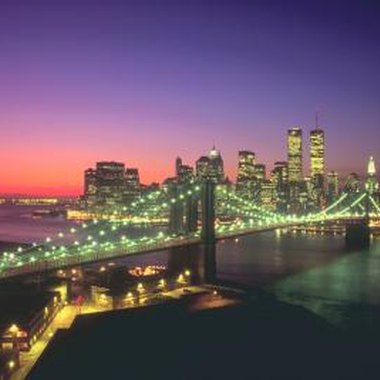 New York City is known for its tremendous nightlife, but many of their venues and clubs are directed at adults, making it hard to host a teenage party. A party in New York City can consist of touring the city and enjoying New York style pizza, or going to some of the events directed at teens. Traveling through the city in a limo can make the city all the more glamorous and appealing to your teen. Hosting a party for your teen in the city can easily become expensive, so be prepared for the cost of a day or night in New York City.
Sci-Fi Lover
If your teen can't get enough of sci-fi novels, movies and all things futuristic, a great place to host a party is at Mars 2112. The entire restaurant is space themed, making you feel as if you took a trip far into the future the moment you enter the building. The food at Mars 2112 is a mix of Asian, Indian and American cuisine and is served in arrangements that look fun and futuristic. Mars 2112 is in the Times Square district at 51st Street and Broadway.
Music Lover
The Living Room has a cafe feel with acoustic performances throughout the night. The Living Room has performances by small, local bands and also well-known artists that most teens adore. The Living Room is a perfect atmosphere for a low-key evening birthday party where your teen can hang out with her friends and talk. The Living Room is located in the Lower East Side of New York City at 154 Ludlow St.
Artistic Teen
Attending a Broadway show in New York City can be one of the most memorable ways to celebrate a birthday party if your teen loves the arts. Broadway tickets are expensive so it would most likely be a small, intimate birthday party, although many Broadway shows offer group discounts. Broadway boasts numerous types of shows from musicals to comedies and dramas. No matter what genre your teen prefers, there will be a show that suits her interests.
Tourist
If your teen has never visited New York City, hosting a party that takes your teen on a scenic tour through the city can be one of the most amazing ways to explore the area. At nighttime, the city is lit up with nightlife and skyscrapers that light up the entire sky. Central Park, the Empire State Building and Times Square are some of the most popular sites to see throughout the city. Ending the tour at a restaurant that serves your teen's favorite dish can be a great way to end the evening.
Photo Credits
NA/AbleStock.com/Getty Images