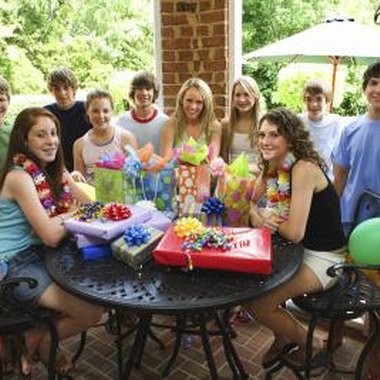 Hosting a birthday party for a group of teens is a daunting task for even the most seasoned parent. Keeping up with what's "cool," and a teen's different interests is challenging. When you add boy and girls to the mix, the party can end up disastrous. If looking for a creative way to keep the kids entertained, throw a murder mystery party. The suspense will keep them guessing until the party's end.
Location
If hosting the event at home, make two to three sections of the house available for the party. Use the backyard as additional space if the weather allows. For a larger venue like an auditorium, leave plenty of available space for the "suspense" to unfold. Most murder and suspense party packages allow for eight to 12 people and depending upon the story line and people involved, may require more or less room.
Costumes
Ask the guests to come dressed up in story-line clothing. If the party will go on longer than a couple hours, suggest guests bring a change of clothing. In the invitation, give each guest a role to play in the suspense story and inform them to dress as closely to the theme as possible. Offer advice on hairstyles, clothing and accessories to match the activities. At the end of the party, give awards for best costume, most original costume and craziest costume.
Food
Offer food that compliments the suspense party theme. Since teens will be "acting-out" a story, serve finger foods throughout the party so they can munch while crime solving. If your suspense party has an island theme, use fresh fruits, cubed cheeses and barbecue pork sandwiches. For a haunted house theme, offer up ghoulish fare like chicken "bone" fingers and "bloody" ketchup dipping sauce. The food you choose lends to the overall atmosphere of the party.
Decorations
Decorations do not have to be elaborate to capture the overall party feel. Just "set the stage" of the crime. Fake police tape and some "collectable" evidence go a long way when staging the crime area. If your party is location or period specific, consider adding a few props to liven up the area. Use candles or low lighting to add to the feel of suspense, or leave out different "weapons" the "murderer" might have used to commit the crime.
Resources
Photo Credits
Thinkstock/Comstock/Getty Images