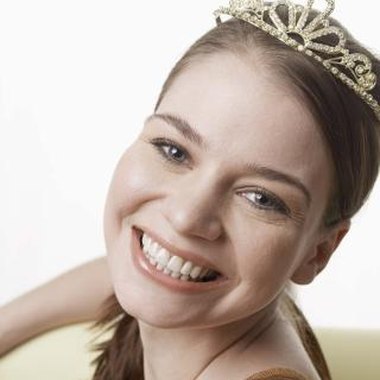 Many little girls dream of being a beauty queen when they grow up. By the time they are teenagers, their dreams can become a reality, thanks to the teen pageant circuit. Virginia teenage girls can participate in a number of pageants, which allow them to showcase their skills while earning scholarships for college and building relationships with fellow pageant contestants.
Pageants
Two organizations in Virginia sponsor teen pageants -- these pageants are affiliated with adult-level pageants, which can give aspiring beauty queens plenty of exposure in the state. Teens who participate in the Miss Virginia's Outstanding Teen Pageant, which takes place annually in Newport News, can win their way to the national pageant, the Miss America's Outstanding Teen Pageant. Likewise, the winner of Miss Virginia Teen USA goes on to compete for Miss Teen USA. This pageant takes place in Virginia Beach.
Requirements
Young women wanting to participate in a Virginia pageant have to meet two basic requirements: They must be teenagers, and they must be residents of the state. The Miss Virginia Teen USA pageant, for example, welcomes contestants ages 14 to 19. Teens can earn a spot on the stage in one of two ways. In the Miss Virginia Teen USA pageant, for example, they can win their way into the pageant by winning one of the preliminary competitions: Miss Southwest Virginia Teen USA, Miss Northern Virginia Teen USA, Miss Harrisonburg Teen USA, Miss Fredericksburg Teen USA or Miss Lynchburg Teen USA. Teens not living in those regions of Virginia can submit an application to compete in the pageant. In addition to providing basic biographical information on the application, potential teen contestants must submit a head shot. Each applicant will have one interview before the final contestant pool is selected.
Pageant Structure
Successful teen pageant contestants in Virginia must be well-rounded. Most importantly, they must be well-spoken and good representatives of the state. Teens will face an interview portion of the pageant, in which they can show their personality and communication skills. Virginia teen pageants also include talent and evening gown competitions.
Responsibilities
Winning a Virginia teen pageant means more than smiling and wearing a crown. Teen pageant winners in Virginia often go on to represent the state in national pageants; thus, the competition continues for the winners. Teen pageant winners also make appearances throughout the state, going to events such as parades and charitable activities. In addition, they earn scholarship money, which is a valuable reward as the teen winners advance to college.
Photo Credits
Jupiterimages/Comstock/Getty Images