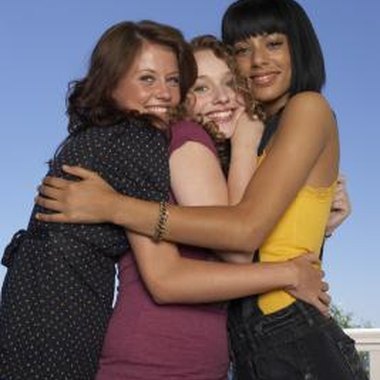 Pennsylvania is home to a host of annual pageants for teenage girls and women. Many pageants function both as in-state title competitions and as regional preliminaries for national and global championships. The contests are varied and diverse, giving motivated Pennsylvania teens of many experience levels, talents, interests, styles, shapes and sizes the opportunity to shine confidently on stage.
Miss Pennsylvania Teen USA
The Miss Pennsylvania Teen USA Pageant is Pennsylvania's preliminary to the Miss Teen USA Pageant. State residents who are at least 14 and not yet 19 years old are eligible to enter. The pageant is held annually over a summer weekend, and the competition has three separate stages: personal Interview, swimsuit and evening gown. Contestants are judged on personality and confidence in the interview; physical fitness in the swimsuit competition; and poise and personal sense of style in the gown presentation. The winner represents Pennsylvania at trade shows and engagements throughout the state, as well as at the Miss Teen USA Pageant before a nationwide audience.
Miss Pennsylvania's Outstanding Teen
The Miss Pennsylvania's Outstanding Teen Pageant is Pennsylvania's preliminary competition leading to the Miss America's Outstanding Teen Pageant. Pennsylvania resident girls between 13 and 17 are eligible to enter. Contestants first compete in local contests in their home counties; these contests lead to the statewide pageant. Held yearly in Pittsburgh, this one-day summer event comprises several competition areas, including private and on-stage interviews, physical fitness, evening wear and two-minute talent performances. Miss Pennsylvania's Outstanding Teen represents the state at the Miss America's Outstanding Teen Pageant in Orlando, Florida, later that summer.
Miss Teen Pennsylvania International
The Miss Teen Pennsylvania International Pageant is Pennsylvania's qualifier for the Miss Teen International (MTI) annual championship. MTI's pageant system promotes young women as self-assured, socially-conscious generational role models. Pennsylvania's preliminary is open to state residents between 13 and 18 years old. Each entrant must submit her personal "platform" -- a cause about which she is passionate and would work for if selected. The state pageant is held in Altoona over a spring weekend. Each contestant competes in MTI's performance events, including an interview about her platform; "fun fashion" expressing her personal style; and "fitness wear" displaying her physical energy and health. Pennsylvania's MTI winner represents her state in MTI's worldwide finals and promotes her cause in a year of public engagements.
Miss Pennsylvania American Coed Pageants
Miss Pennsylvania American Coed Pageants is a system of annual scholarship pageants for female state residents ranging from age 3 to 22. Pageants are divided into age groups including "Miss Pennsylvania Teen" for ages 16 to 18, and "Miss Pennsylvania Junior Teen" for ages 13 to 15. American Coed is unusual because most contestants have no prior pageant experience; the program is structured to make first-time competition a formative learning experience by training girls to develop the skills, poise and confidence for successful self-presentation. Pageants are held over a summer weekend retreat. Teens engage in innovative competitive events such as speech contests, "spirit awards" and honors for academic achievement.
Photo Credits
Goodshoot RF/Goodshoot/Getty Images