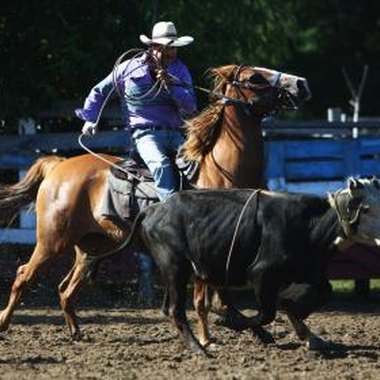 Team roping provides rodeo competitors with the challenge of bringing a running steer under control. Two competitors on horseback, known as headers and heelers, have to secure the head and back legs of the animal, with the team completing this in the quickest time winning. Locations in Oklahoma that stage team roping events include the state capital, Oklahoma City, as well as Alva, Duncan and Ardmore.
Professional Events
The United States Team Roping Championships (ustrc.com) stages more than 80 sanctioned professional events each year. The organization boasts around 35,000 members, and its team roping competitions take place at locations around the country. One of the highlights of the season takes place in Oklahoma City, when the USTRC National Finals are staged at the Oklahoma State Fairgrounds each October. This week-long event features the roping teams that have performed best during the season, and has around $4 million of cash and prizes on offer.
Amateur Events
The Original Team Roping Association (otrc.net) operates in Texas and Oklahoma. The organization offers membership to individuals and families interested in taking part in competitive team roping, welcoming all ages from youths to seniors. Teams compete in events in their own area during the season, with the chance to progress to district finals and the overall OTRC finals. Districts in Oklahoma include Ardmore, Duncan, Checotah, and McAlester, with some of the locations staging events, including the Lighting C Arena in Dow and the Morgan Ranch Arena in Duncan.
College Events
College students in Oklahoma can take part in team roping events that are organized as part of the National Intercollegiate Rodeo Association (collegerodeo.com). The Central Plains region of the organization includes teams from Oklahoma universities; some of those taking part include Northwestern Oklahoma State University (nwosu.edu) and Oklahoma Panhandle State University (opsu.edu). Roping teams take part in 10 regional rodeo events during the college year, competing for the chance to progress to the national finals. Events in Oklahoma typically taking place at university premises in Alva, Coleman, Weatherford and Guymon.
Kid's Events
Kids can take part in team roping at the World Junior Team Roping Championships (worldjuniorteamropingchampionships.bonham-tx.info). Since 2008 this event has taken place at the Hardy Murphy Coliseum in Ardmore each year in November. Teams have to rope five steers for the chance to become crowned junior world champions. The event is open to senior teams, aged between 14 and 20, as well as younger kids aged 14-and-under.
Photo Credits
Sandra Mu/Getty Images Sport/Getty Images