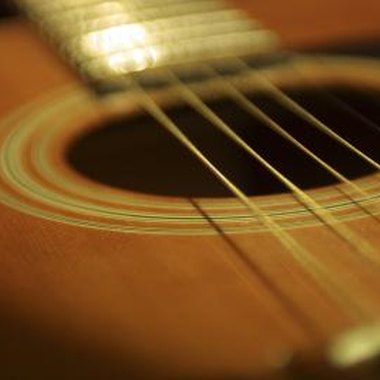 Taylor Swift is a young pop icon known for writing her own songs and playing the guitar. She has released three albums of wildly popular, country-pop music. Dress up as this famous pop star, widely recognized by her long, curly blond hair, for Halloween and impress all of your friends.
Hair
Taylor Swift is known for her youthful appearance and long, curly blond hair. If you have long blond hair, the Cosmopolitan website recommends using a small-barreled curling iron to achieve her look. If you have short, dark hair, dye it blonde for an extreme look, or don a long, blond wig. While Swift is most often seen with her hair loose and flowing, another option is to pull it up into a twist. If you opt for this look, leave out a few face-framing curls.
Makeup
Make your Taylor Swift costume pop by re-creating her makeup from one of her music videos or appearances. For instance, in the "Teardrops of my Guitar" music video, Swift sports very simple, shimmery eye makeup, with shades of cream and mint green, with light pink lips. This singer generally wears classic, understated makeup; if you don't wish to replicate one of her looks, try pairing peachy-pink cheeks and lips with black mascara, black eyeliner and a shimmery white highlighter on your eyes.
Clothing
Choose a sparkly dress for your Taylor Swift Halloween costume. The singer is often seen wearing sparkly gowns of various lengths; the dresses she wore to the 2009 MTV Music Video Awards and the 2009 premiere of the "Hannah Montana" movie can be used as inspiration. You can also go another route and play up Swift's country appeal by wearing a light-colored, cotton sundress, or imitating a look from one of her albums, such as the flowing purple dress she wears on the cover of her "Speak Now" album.
Accessories
Add the finishing touches to your Taylor Swift Halloween costume by accessorizing with items associated with the country music star. Add a pair of cowboy boots and carry around an acoustic guitar, which the singer plays during her shows. Another option is to accessorize with a partner; have a friend dress up as Kanye West, who is known for interrupting Swift onstage at the MTV Video Music Awards.
Resources
Photo Credits
Hemera Technologies/AbleStock.com/Getty Images