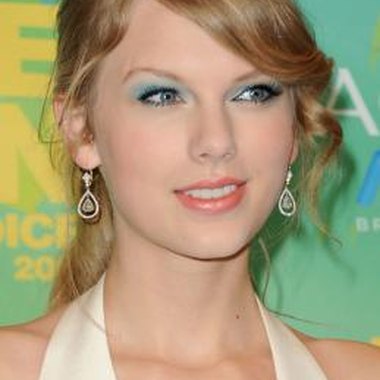 You can't think of a music awards show without thinking about Taylor Swift, who has taken the music industry -- both pop and country -- by storm since her debut single in 2006. If your daughter has taken an interest in Taylor Swift, set out to make her next birthday party all about her new music idol.
Invitations
Plan your girl's Taylor Swift party down to the last detail, including the invitations. Create your invitations with a concert theme in mind. Create faux concert tickets, using an image of Taylor Swift and designing the text on the ticket to mimic what you would find on a Ticketmaster ticket. Be sure to include whose party it is, the time and date of the party and the venue where it will be held. Print the tickets in color so everyone can easily see the image of Swift along with the text that's running atop it.
Decorations
Choose your favorite picture of Taylor Swift and get custom balloons, napkins and paper plates made. Buy some posters at your local music store, and hang them up around the party room. If you prefer to keep your costs down, print out pictures of Taylor from your computer to use instead of store-bought posters. If you don't have a color printer, use it to your advantage. Print the pictures and have the girls color them in with crayons and markers. Also, as Swift plays her own guitar on her songs, you can use a likeness of the instrument to decorate as well, such as guitar balloons or paper cutouts.
Cake
Traditionally, birthday parties include cake, and a Taylor Swift birthday party should be no different. Decide the kind of cake you would like to serve your birthday girl and her guests, and figure out how you want to incorporate Taylor Swift. One option would be to visit a bakery to purchase a sheet cake, and ask the bakery to impose an image of Swift or one of her album covers on the icing on the top of the cake. Another option would be to get a cake made either in the shape of Swift herself, or in the shape of a guitar, as an homage to her main instrument. Determine the colors used on the cake to complement the image or shape you have chosen. If you choose to create the cake yourself, decorate it with your girl's favorite colors, and, instead of imposing an image in icing, top the cake with Taylor Swift favors, such as a CD case or album cover, small magnets with her photo on top and small guitars.
Favors
While birthday parties often are a time when the guest of honor is the one getting gift, children's parties tend to be reciprocal, in that the guest of honor gives her guests a goody bag to remember the day. What you place in the goody bags may be determined by the amount you want to spend on each guest and how many guests are in attendance. You may include Taylor Swift's latest CD, a small poster, and pens and pencils with her likeness on them. An online search may reveal Taylor Swift removable tattoos, magnets, bookmarks and more, which also would make ideal goody bag favors.
Photo Credits
Jason Merritt/Getty Images Entertainment/Getty Images