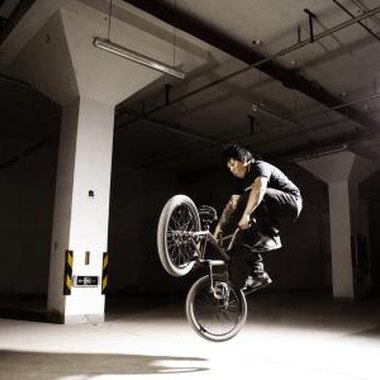 Tail tapping is an intermediate-to-expert level trick you can perform on a BMX. Essentially, in a tail tap, you pump up a quarter pipe and perform a 180 bunnyhop on the deck before heading back down the pipe. Get it right, and your the tail tap is an exhilarating trick to perform.
Items you will need
Helmet

Gloves

Knee and elbow pads

1 4-foot quarter pipe
Step

1
Approach the quarter pipe with a high level of speed --- higher than you would normally approach the pipe when planning to stop on the deck. Pump up the transition of the pipe and start to turn the handle bars inward as you near the top of the pipe.
Step

2
Initiate the 180 motion as you reach the top of the pipe. Rely on your momentum to carry you up onto the deck of the pipe --- you should land as close to the coping (edge) as possible, within a few inches. Pull hard on the rear brake and ensure you have a tight grip from the moment your are airborne.
Step

3
Land the back tire near the pipe's coping, ensuring the front tire is at least 12 inches above it, preferably at a 45-degree angle. Maintain your balance by leaning slightly back toward the inside of the pipe. Try to hold your tail tap as long as possible, as the longer you stay at the top of the deck the better your trick looks.
Step

4
Move your body back toward the ramp and turn the handle bars slightly more so you transition well to drop back into the quarter pipe. Loosen, but do not fully release, the rear brake until you have completely reentered the pipe. Get your body low and lean back quite far as you nail your landing and master the tail tap.
Tips & Warnings
Keep your body quite loose as you tail tap. Bend your knees as you land on the deck and dip your body as you drop back into the quarter pipe.

Wear a helmet and other pads when attempting a tail tap.

You can't even attempt a tail tap until you're able to drop in off the quarter pipe's deck and bunnyhop 180; you must have the right level of experience before attempting this trick.
References
Resources
Photo Credits
Ting Hoo/Digital Vision/Getty Images