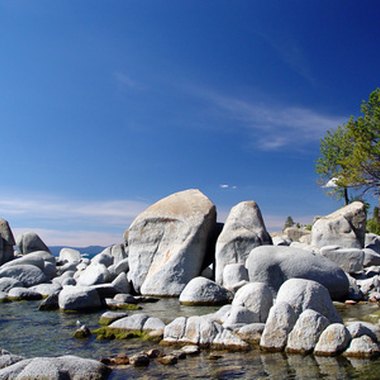 Long before Tahoe City began attracting visitors to ski Lake Tahoe's alpine slopes or zip around the lake's deep waters in speedboats and jet skis, the region was home to Native Americans. Later, European settlers began developing the land into a vacation destination; early visitors used a wagon trail to reach Tahoe City. Today, Tahoe City offers hiking, fishing, snow activities and shopping. Staying at a Tahoe City hotel offers convenient access to nearby Truckee River, scenic Emerald Bay and the Nevada casinos of Tahoe's south shore.
Truckee River
The Truckee River remains fairly sleepy as it runs through Tahoe City, drawing families who ride the gentle currents on rented rafts and inner tubes. Depending on current strength, the ride can take a few hours, so people often pull their rafts ashore for a picnic lunch, waving to cyclists on the adjacent bike path. Rapids get a bit frothier near Tahoe City's River Ranch Lodge & Restaurant, so hotel guests often get front-seat views of families frantically trying to avoid being dumped into the chilly water. It's all good fun, and sodden rafters often join hotel guests on the busy patio for lunch. Ask for ski lift discounts during winter.
Budget
Secluded in the mountains, Lake Tahoe's prices for just about everything are notoriously higher than in surrounding areas. Budget travelers can reserve extra funds for preferred activities by choosing inexpensive accommodation, such as America's Best Value Tahoe City Inn. Rooms look out to the lake or nearby golf course, and it's a 10-minute drive to the Squaw Valley ski resort tram. Free perks include continental breakfast, newspapers, parking and wireless Internet access. Guests can book shuttles to nearby ski resorts, and everyone receives discount cards for neighborhood restaurants and shops.
Historic
The Tahoe Tavern was built in the late 1800s, during the era when Lake Tahoe got its first railway line. When the resort site proved too unprotected from the elements, the establishment relocated to the current site of Granlibakken. During those years, guests went for horse-drawn sleigh rides and tobogganing down the slopes -- and started skiing. As local interest grew, investors built a ski slope, and residents formed a ski club. The Granlibakken resort was eventually built by a Norwegian skier in 1947. Today's visitors can book a hotel room, studio suite or eight-bedroom townhouse at this Tahoe City hotel. Amenities include an outdoor pool, hot tub, sauna and free hot breakfast.
Bed and Breakfast
Tahoe City's Chaney House has a storybook feel, with stone walls and a fireplace erected by an Italian stonemason in 1923. There's a private beach and pier, and guests can opt for outdoor patio breakfasts or dine inside. Extra touches in the rooms include spiral staircases, lake views, whirlpool tub and gas fireplace. The owners can help coordinate small weddings.