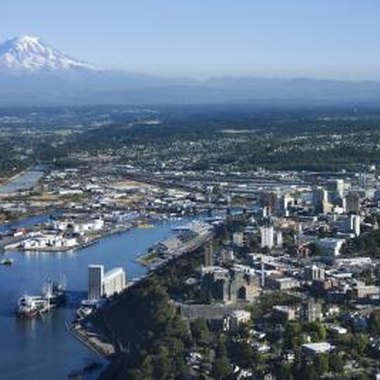 From Victorian bed and breakfasts to downtown boutiques, a range of Tacoma hotels exist for every traveler. Downtown is the place to stay for easy access to the area's attractions, including the Tacoma Art Museum, the Museum of Glass and the Broadway Center for the Performing Arts, but staying at a local bed and breakfast gives visitors a chance to experience life as a local in a quiet neighborhood.
Hotel Murano
Perhaps the most stylish choice in the Tacoma area is the boutique hotel Murano, located just blocks from the Museum of Glass and the Tacoma Art Museum. Rated one of the top hotels in the world by Conde Nast, Murano contains a lobby filled with original works of glass art. All rooms come with iPod docking stations, flat-screen TVs, "help me" buttons and an extensive pillow menu. A spa and restaurant reside on premises.
Silver Cloud
The view is the main attraction at this waterfront Tacoma hotel; all guest rooms have views of the water, and the suites come with Jacuzzis and massive bathroom waterfront windows. Third-floor rooms are known to have the best views. Other room amenities include 42-inch flat-screen TVs, complimentary high-speed wireless Internet access, upscale bath products and a daily newspaper. The hotel also provides complimentary breakfast and a free shuttle to local attractions.
The Villa Bed and Breakfast
Rooms at this Italian-inspired villa come with four-post beds, private verandas, gas fireplaces, and either soaking tubs or private Jacuzzis. Located in a quiet neighborhood near Wright Park, the villa also features views of the Olympic Mountains and Commencement Bay from its top-shelf Sorrento room. The rest of the house is filled with vintage furniture and antiques. A business center and exercise room are on premises.
Chinaberry Hill
Named "one of the finest inns in the state" by Frommer's, this grand Victorian home in the Stadium district features views of Commencement Bay from its rooms. Guests have 24-hour access to the kitchen, stocked with complimentary cookies, juices, sodas, bottled water, gourmet hot chocolate, teas and popcorn. Rooms feature antique furniture, Jacuzzis or claw-foot soaking tubs, and high-quality linens and decorative pillows. "Heavy" complimentary daily breakfasts may include blueberry pancakes or orange croissant French toast. Outside the rooms is a 100-year-old garden with views of the Tacoma harbor.
Photo Credits
Jupiterimages/Comstock/Getty Images