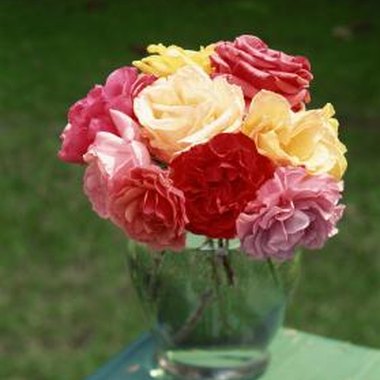 You have several options for table settings when hosting a wedding shower. Start by considering whether you will have a sit-down meal during the shower, usually a brunch or lunch, or whether it will be a buffet-style meal or selection of appetizers. The former is more formal, while the latter is more casual and often less expensive.
Coordinate With the Wedding Colors
One option for setting your tables is to coordinate with the colors of the wedding. The bride-to-be will instantly recognize that you've made an effort to keep the shower cohesive with the wedding. You can choose table runners, napkins, flowers and balloons in colors that coordinate with the wedding colors. Choose white plates to offer a clean backdrop for the colorful linens and flowers.
Theme Table Settings
If there is a specific theme for the wedding, such as doves on the invitations, use that at the shower, too, with plates or napkin holders that reflect the theme. Or you can relate the theme to the type of shower you're hosting. A casual outdoor-themed shower can have plates with a green leaf motif along with natural items, such as tiny saplings, as centerpieces, and wildflowers wrapped around napkins for napkin rings. A beach-themed shower can use pale blue or sand color plates, turquoise napkin rings and seashells, and candles nestled in glass candleholders with sand.
Floral Table Settings
Flowers are always appropriate at a bridal shower. If you know the flowers the bride is using in her bouquet, use plates that have that color. Or choose pure white plates, napkins and napkin rings, perhaps with an accent of gold or platinum, to set off the flowers in the centerpiece. Add a high, dramatic floral centerpiece on a buffet table, or a number of short ones running along a table where people will be eating. A bouquet of mixed flowers and colors offers a natural, carefree look, while using single types of flowers is formal and elegant.
Other Table Settings
There are other options for table settings as well. Fruit is especially appropriate at a wedding shower for brunch, or for a wedding that will take place in a tropical locale. Choose plates and bowls with a fruit pattern, or brightly colored ones that will coordinate with the fruit on the table. Arrange small bowls of beautifully cut fruit along the table or in a heart shape, or put one large platter in the center. Skewers of fruit sticking out of a watermelon are both beautiful and colorful. For an environmentally conscious bride, use rustic stoneware for the place settings, and small pots of bamboo or potted flowers rather than cut flowers. They can be taken home and planted after the shower.
Photo Credits
Jupiterimages/Comstock/Getty Images