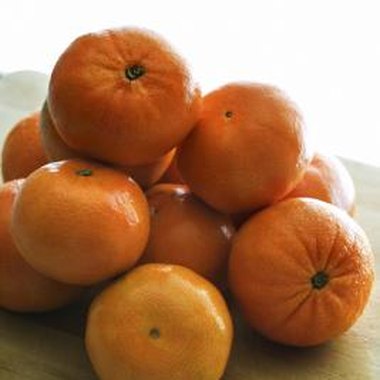 Wedding showers are a popular tradition in which the bride's, and often also the groom's, friends and family come together to celebrate the impending nuptials. If you're in charge of planning a friend or relative's wedding shower, adorn the party area with creative, beautiful centerpieces and table decorations.
Floating Flowers
Creating a beautiful wedding shower centerpiece is as simple as purchasing an assortment of the bride's favorite flowers and foliage and one shallow glass bowl per table; using wide-based flowers makes creating these centerpieces easier. In an idea suggested on the Divine Dinner Party website, cut the stems off the flowers and arrange them in the glass bowls so that the surfaces of the bowls are covered. Add some green foliage and, if desired, add pillar candles or other extras, such as craft jewels, to the centerpieces. Choose flower and candle colors that match the other wedding shower decor.
Fruit
Pieces of colorful, healthy fruit can be used as inexpensive, beautiful table decorations. Simply fill a decorative bowl with an assortment of fruit, such as apples, pears, lemons and oranges; you can also add several whole pieces of fruit, as well as a few fresh flowers, to a large vase. Pile an assortment of berries onto a plate, or add sliced watermelon and pineapple to a glass vase for a summery feel. Many companies also sell fruit centerpieces that are both stunning to look at and edible.
Themes
Have your wedding shower's table decorations reflect a theme, if one has been chosen. For a holiday theme such as Valentine's Day, Christmas or Halloween, choose decorations such as miniature pumpkins, glass vases filled with colorful Christmas ornaments, and decorative boxes of chocolates. A glass bowl filled with sand and seashells is perfect for a beach-themed wedding shower, while a small watering can filled with fresh flowers can be used as a centerpiece for a garden-themed wedding shower.
Additional Table Decorating Ideas
When it comes to table decorating, don't forget to consider necessities such as table linens and plates. Choose colors that complement the overall tone of the wedding shower; a vibrant red tablecloth and pink plates are suitable for a Valentine's Day event, while a blue tablecloth paired with seashell-print plates is ideal for a beach-themed wedding shower. Add small touches such as confetti and flower petals scattered over the tabletops, as well as framed pictures of the bride-to-be. Another option is to display the guest's wrapped, or unwrapped, party favors; these can be used as centerpieces, or placed on another table.
Photo Credits
Thinkstock/Comstock/Getty Images