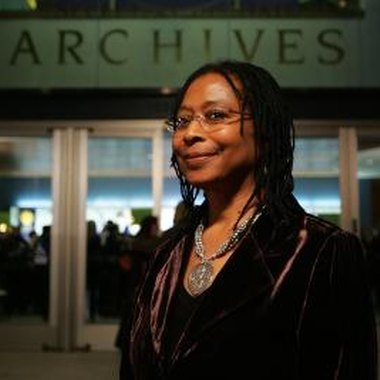 "The Color Purple" is a 1982 novel by Alice Walker that won a Pulitzer Prize for Fiction. The book deals with the lives and experiences of African-American women during the 1930s and beyond. "The Color Purple" was later adapted into an Oscar-nominated movie starring Whoopi Goldberg and Danny Glover.
Mr. __
Celie is a 14-year-old black girl living in Georgia who is sexually abused by her father, resulting in a number of pregnancies. She is eventually married off to a man known only as "Mr. __." Mr. __'s motivations for marrying Celie are simply to have someone to raise his children and work in his field. Celie is happy with this, however, as it means she can remove her sister Nettie from her father's house and have her move in with them. Nettie is soon kicked out of the house for rejecting Mr. __'s sexual advances and Celie and Nettie lose touch. Celie sinks into a depressive state.
Shug's Arrival
Mr. __ brings his ill mistress, Shug, to the house for Celie to nurse back to health. Celie is obsessed with Shug and the two soon fall in love with each other. Together, they discover that Nettie has been constantly writing letters to Celie only to have them hidden by Mr. __. Reading through the letters, Celie begins to understand the full extent of the appalling treatment meted out to her by Mr. __. Celie and Shug escape to Memphis together to start a new life.
Pa's Death
Celie finds out from the letters that the man who abused her wasn't her biological father. She also discovers that Nettie has moved to Africa to work as a missionary with the Reverend Samuel, and that they have adopted two of the children she and her father sired together. The news comes through of Celie's father's death. As Celie's mother has also died, the house they lived in now belongs to Celie. Celie begins to prepare her home for the return of Nettie.
Nettie's Return
Celie and Shug remain close friends although Shug isn't a faithful lover. Mr. __ returns to Celie's life as a changed man, and although they don't have a romantic relationship they become good pals. Nettie returns from Africa with Samuel and her adopted children. The two sisters have an emotional reunion and, although they are now both old, prepare to spend the rest of their lives together as a family.
Photo Credits
Justin Sullivan/Getty Images News/Getty Images