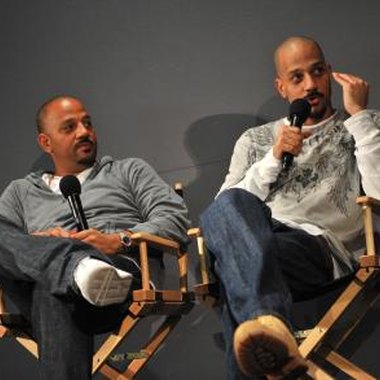 "The Book of Eli" is a 2010 film directed by The Hughes Brothers. It stars Denzel Washington as a nomad warrior who guards a valuable book with his life. According to movie tracking website Box Office Mojo, the action film with religious themes took in over $157,000,000 at the box office worldwide.
Set-Up
The story opens in a post-apocalyptic wasteland. A lone traveler, Eli (Denzel Washington), finds shelter in a ravaged and deserted house. He carries several weapons (a sword, handgun and sawed-off shotgun) and a carefully wrapped book among his few possessions. The next day he encounters a group of roadway bandits that he disposes of with lethal fighting skill. Eli's journey takes him to a rough-edged town run by a crime boss named Carnegie (Gary Oldman).
Build-Up
Carnegie is intent on finding a book that he believes will enable him to gain control of a vast empire. When Eli kills several of Carnegie's men in a bar fight, Carnegie tries to make Eli a member of his gang. Eli refuses the offer, even when the beautiful Solara (Mila Kunis) is sent to seduce him. Through Solara, Carnegie learns of Eli's book, and Carnegie and his men intervene as Eli tries to leave town. After a fierce gun battle, Eli escapes with the book.
Mid-Point
Solara follows after Eli. After trying to rid himself of her at first, they eventually become travel companions. At a remote homestead they meet an elderly couple named George and Martha (Micheal Gambon and Frances de la Tour) who turn out to be cannibals. As Eli and Solara attempt to escape, Carnegie and his men arrive in several heavily-armed vehicles. In the fire-fight that ensues, George and Martha are killed and Eli and Solara are forced to surrender. Carnegie forces Eli to hand over the book, then shoots Eli and leaves him for dead.
Climax
On the way back to town, the captive Solara strangles her driver, which causes an accident that kills Carnegie's number two man, Redridge (Ray Stevenson.) Carnegie decides to continue to town with the book while Solara escapes in one of the vehicles. Solara finds a gravely wounded Eli walking along the roadway and together they drive west to a desolate San Francisco. They take a rowboat to Alcatraz where Eli announces to armed guards that he has a copy of the King James Bible.
End
Carnegie opens the bible he stole from Eli to find it is written in braille. He collapses in defeat as his bar is overrun by lawlessness. At Alcatraz the curator of a de facto library (Malcolm McDowell) hand-writes a copy of the bible that Eli recites from memory. The bible is re-printed and placed in the library. Eli dies of his gunshot wound and Solara sets off on her own journey back home.
References
"The Book of Eli"; The Hughes Brothers, Directors; 2010
Photo Credits
Henry S. Dziekan III/Getty Images Entertainment/Getty Images