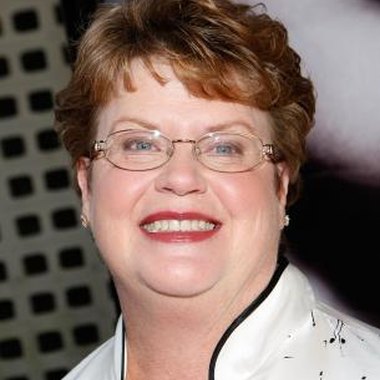 Charlaine Harris is a married mother of three and the author of several book series including the Southern Vampire, Aurora Teagarden and Harper Connelly series. A writer for more 30 years, she has penned several short stories that have in different anthologies. One of those short stories is "Tacky," published in "My Big Fat Supernatural Wedding" in 2006.
Characters
The main characters in Harris' "Tacky," are Dahlia, Todd, Taffy and Don. Taffy and Dahlia, the bride-to-be and her maid of honor, respectively, are vampires. They are part of a nest ruled by the vampire sheriff Cedric. Don and Todd are werewolves, with Don the groom-to-be and Todd his best man. Don is also the packmaster, while Todd works security.
A Supernatural Wedding in a Human World
Humanity knows about the existence of vampires but not about werewolves, and marriage between a vampire and human is illegal. Dahlia is concerned that humans may learn of Taffy's wedding, assume a vampire is marrying a human and cause problems. Determined to not shame her former nestmate Taffy, Dahlia learns all she can about modern weddings and plans a formal wedding in the garden at Cedric's home. The tenuous truce between vampires and werewolves is shaken when Amber, Don's ex-wife attacks Taffy outside of the werewolf bar where Taffy's engagement party is being held.
An Ex-wife's Jealousy
Dahlia jumps in front of Taffy to protect her from Don's knife-wielding ex and is stabbed in the ribs. Dahlia breaks Amber's wrist, which infuriates the pack of werewolves. Todd brings order by telling the pack that an attack on Don's future wife is an attack against Don the pack master. Todd denounces Don's ex-wife's actions and enforces Dahlia's request that Amber stay away from Taffy for a year and replace Dahlia's dress and shoes, which were ruined in the attack. Todd is impressed by the way Dahlia handled the situation and asks if he can walk her home to talk with her about the security plans for the wedding.
A Successful Supernatural Wedding
On the day of the wedding, Dahlia arranges for a knife to be added to each of the bridesmaids' bouquets. As she and Todd walk down the aisle, Todd whispers that there are more caterers in attendance than necessary. When they reach the end of the aisle, instead of separating they turn and face the direction from which the danger will come, forming a protective wall around Don. Dahlia hopes Taffy can make it down the aisle to safety before the caterers attack. As soon as Taffy appears the caterers draw guns and fire upon the bride. Taffy is not injured, but the supernatural creatures immediately fight back and kill all the caterers. Less than a year later Dahlia and Todd themselves are married; they elect to have a potluck dinner to avoid "tacky" caterers.
References
"My Big Fat Supernatural Wedding"; Sherrilyn Kenyon et al.; 2006
Photo Credits
Michael Buckner/Getty Images Entertainment/Getty Images