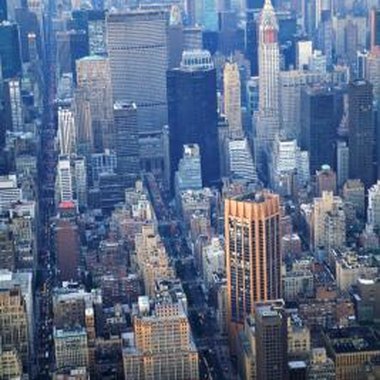 In 1998, the television show "Sex and the City" -- based on the columns and books by Candace Bushnell -- debuted on HBO to rave reviews. The show's main star is Sarah Jessica Parker as the beloved Carrie Bradshaw. The series documents the New York City adventures of Carrie and her three closest friends: Samantha, Charlotte and Miranda. Through their exploits, their friendships with one another remain strong, and they learn that they are one another's soul mates.
Carrie Bradshaw
Carrie, the main character and narrator, writes a sex column for an NYC paper. She is romantic, stylish and lovable. Early in the first season she meets one of her great loves -- the wealthy businessman Mr. Big. They date intermittently, but he struggles with commitment issues. One day, he unexpectedly announces to Carrie that he is leaving for Paris. Carrie is devastated when he returns engaged to a much younger woman. Carrie begins dating a furniture maker named Aidan. Things are going well -- until Big shows up again. They begin a secret affair until Big's wife discovers them and Carrie confesses to Aidan, who breaks up with her. After time apart, Aidan does get back together with her and they become engaged. But Carrie cannot go through with it and breaks it off. In the final season, Carrie begins dating a famous Russian artist, Aleksandr Petrovsky. Though he is not a favorite among her four girlfriends, they do their best to be supportive when she tells them she is moving to Paris with him. In Paris, Aleksandr treats Carrie poorly, and she is about to break up with him when Big arrives. He has decided he cannot live without her, and he brings her back to New York with him.
Charlotte York
Charlotte is a sweet, hopelessly naive girl looking for a fairy tale ending. After a whirlwind romance with wealthy and handsome Trey MacDougal, she believes she's found her happy ending. But the marriage is plagued with problems in the bedroom, an overpowering mother-in-law and infertility struggles. They divorce, and Charlotte later marries her divorce attorney, Harry Goldenblatt. After more fertility struggles and a miscarriage, they adopt a baby girl from China and name her Lily.
Miranda Hobbes
Miranda is a successful attorney with cynical views on love and romance. As men are often intimidated by her success, dating is difficult for her. She meets a self-assured bartender named Steve, a friend of Aidan's, and they date off and on throughout the second and third season. While they are broken up, Steve is diagnosed with testicular cancer. Miranda, trying to prove that he is still attractive to women post-surgery, spends the night with him. She later discovers she is pregnant. The two wed during the final season and move to Brooklyn, where they raise their son together.
Samantha Jones
Samantha -- an independent PR exec -- is the oldest of the girls. She prefers not to be in long-term relationships and has a number of brief sexual adventures during the run of the series. Though dismissive when it comes to sex, she is a loyal friend. During the final season, she begins dating the much younger man, Smith Jerrod. After being suddenly diagnosed with breast cancer, she learns how much she cares for Smith as he sees her through the ups and downs of her disease.
Resources
Photo Credits
Thinkstock Images/Comstock/Getty Images