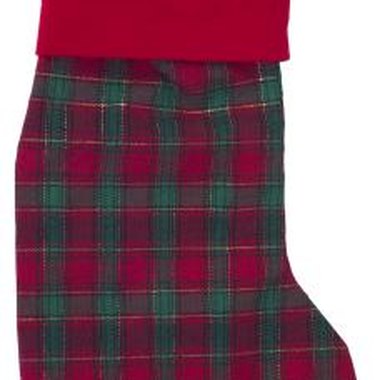 "Plaid Tidings" is a holiday musical revue set in the Christmas season. It was written by Stuart Ross in 2001. He wrote it soon after the Sept. 11 attacks in the U.S., because staff at the Pasadena Playhouse thought people could use a bit more holiday cheer in the aftermath of the disaster.
Characters
The main characters in "Plaid Tidings" are Frankie, Sparky, Smudge and Jinx. They are four high-school age boys who formed a semiprofessional harmony singing group called "The Plaids" in the 1960s. Frankie is the leader and the most outspoken member of the group, but also has asthma. Jinx is prone to chronic nosebleeds and Smudge has a stuttering problem. The boys get along well and are supportive of each other.
"Forever Plaid"
"Plaid Tidings" is the sequel to "Forever Plaid." In the prologue of "Forever Plaid," the Plaids had been on their way to their first semiprofessional gig at an airport lounge. However, while on the road, they were broadsided by a school bus and all four members were killed instantly. "Forever Plaid" is about the group coming back to Earth in the present to perform the show that they never got a chance to perform while they were alive.
"Plaid Tidings" Act I
Frankie, Sparky, Smudge and Jinx return to the same set from "Forever Plaid" and are happy to be back, this time during Christmas season. However, they soon realize they don't know why they've returned. After performing some of their old hits, Smudge tells the audience that one of the group's greatest dreams was to have its own holiday special. After singing a medley of traditional Christmas music, a cell phone in the audience rings: it's for the group, and it's Rosemary Clooney -- famous singer and actress -- calling to inform them that their mission is to bring more holiday cheer to the world.
"Plaid Tidings" Act II
Act II opens with the set -- four microphone stands, a piano and the moon in the background -- now decorated with a few large ornaments. The boys enter in festive attire, including red cardigans and plaid ties. They sing several holiday songs, including "Let It Snow" and "Joy to the World." Sparky tells the story of how he almost sang backup for Perry Como and how the famous singer gave him his golden cardigan. Next, the boys perform a condensed version of "The Ed Sullivan Christmas Show, " complete with holiday songs like "Jingle Bells" and "Home for the Holidays." After the songs are done, the Plaids return to the sky and the show ends.
Photo Credits
Hemera Technologies/PhotoObjects.net/Getty Images