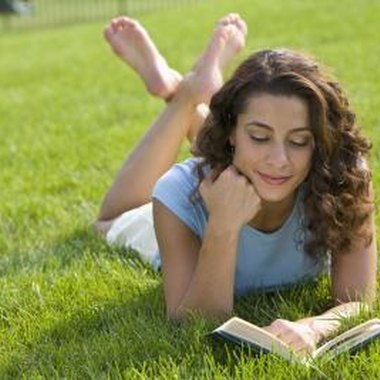 Known for her entertaining mystery plots, Agatha Christie wrote over 66 novels in addition to short stories and screenplays. Her novel "Murder Is Easy" was originally published in 1931 and was featured as a Miss Marple mystery on PBS. Although the character Miss Marple does not appear in the original work, the book offers a delightful read with a surprise ending that leaves the townspeople -- and the readers -- shocked.
The Setting
The story begins on a train as a worn-out young policeman makes his way home. On his way, he meets a spinster who declares she is going to Scotland Yard to report the murder of four people in a sleepy English town named Wynchwood. The policeman decides to brush off this encounter and the story as a tall tale made up by an old lady with nothing to do. But when she dies on the way from the train to police headquarters, the policeman begins to get suspicious and pays a visit to Wynchwood.
The Characters
Luke Fitzwilliam, the policeman, is the primary character and narrator of the book. Miss Pinkerton, an elderly spinster, draws him into the mystery that occurs in her hometown, but is quickly killed off. Fitzwilliam stays in a large manor with a man named Lord Easterfield and his fiance Bridget Conway. The sharp and intelligent Conway accompanies Fitzwilliam through his investigations as he questions various townsfolk to find out who the murderer is.
The Romance
While Christie's novel's traditionally stay within the mystery genre, this particular story blurs the lines by weaving in a witty and flirtatious romance between Fitzwilliam and Conway. Christie allows the reader to think that Conway is smarter than Fitzgerald, seemingly a step ahead of his interrogations. The romance contributes positively toward the story and moves the plot along quickly. The policeman begins to focus more of his attentions on the pretty Conway and neglects some of his reasoning skills needed to solve the crimes at hand.
The Mystery
Fitzwilliam is introduced to various townsfolk by Conway, delving into each person's life to find a motive for the multiple murders. As he talks to an antique dealer, a solicitor, a doctor and a young socialite, he discovers that each of them have reasons to kill the Mrs. Pinkerton and other people in the village. Character and dialogue is deep, allowing the reader to get fully engrossed in the story. Christie surprises the reader at the end of the story with a somewhat far-fetched but still satisfying reveal of who committed the terrible acts in the town.
References
"Murder Is Easy"; Agatha Christie; 1941
Photo Credits
Comstock Images/Comstock/Getty Images