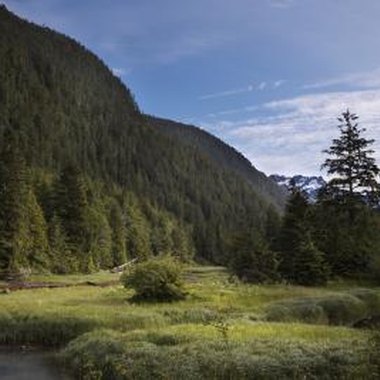 In his book "Into the Wild," author Jon Krakauer compiles a detailed account of the journey of young Christopher McCandless. Following in the footsteps of naturalists such as Henry David Thoreau and John Muir, McCandless willingly gave up a civilized life for a solitary life in the wild. Krakauer's short story, written following McCandless' death in the Alaskan wilderness, prompted a further investigation of the young man's background and motives. Interviews conducted with friends of McCandless and the stories they shared ultimately became Krakauer's book.
Chapter 1
The first three chapters introduce characters that crossed Chris' path during his two-year stint spent traveling prior to settling in Alaska. In Chapter 1, Chris is picked up while hitchhiking by Jim Gallien. McCandless introduces himself as "Alex" and explains that he plans to "live off the land" in Denali National Park. Gallien tries to change his mind, as Alex seems unprepared and gives the 24-year-old his boots, his lunch and his phone number. The date is April 28, 1992, just four months before McCandless' body was discovered in a dilapidated bus inside the park on September 6.
Chapters 2-3
McCandless' body is discovered by Ken Thompson, Gordon Samel, Ferdie Swanson, Butch Killian and an Anchorage couple. Found taped to the bus is a note which begs for help. Killian alerts authorities, who remove the body, five rolls of film, the note, and a diary the following day. Autopsy reports reveal that McCandless died of starvation. Chapter 3 introduces Wayne Westerberg, who provided lodging for hitchhiking "Alex" for three days before McCandless moved on. Readers learn that McCandless was an Emory graduate, Virginia native and the son of successful parents. His decision to travel West was kept from family and friends.
Chapters 4-7
Abandoning his Datsun following a flash flood at Lake Mead National Recreation Area, McCandless burns his money, sheds unnecessary baggage, and hikes around the lake. He eventually finds work on a farm but steals a bike and leaves when he realizes the owner will not pay him. Journeys continue through Colorado, Mexico, California and Arizona. In Bullhead City, Arizona, McCandless took a job at McDonald's and took up residence in a vacant trailer. Upon leaving, he went to live with Jan Burres and her boyfriend Bob, a couple he'd met in his travels. He soon leaves them to continue his quest. McCandless then meets Ron Frantz, a leatherworker who teaches him the craft. Frantz eventually drove McCandless to South Dakota, where Chris had a job waiting on him through Wayne Westerberg.
Chapters 8-9
Krakauer examines the motives of other explorers before McCandless. He draws comparisons between them, noting that two major similarities between McCandless and the others is a longing for uniqueness and the pursuit of a lifestyle outside the norm. A main person whom Krakauer draws comparisons to is Gene Rosellini, a man who sought to live without modern technology.
Chapters 10-16
More background information on McCandless, as relayed by people including Westerberg and Gallien, paints a better picture of the explorer and his impact on the people he met. Krakauer conducts an interview with McCandless' parents, which reveals an intimate portait of their son's early life and his personality. The author discusses his own youth spent adventuring as being much like McCandless': strong-willed and self-absorbed. Krakauer also mentions the relationship with his own father, drawing parallels and differences between that of young McCandless and his father, Walt. In efforts to clarify the mystery and dispel assumptions about McCandless' death, Krakauer uses the testimonies of others to show McCandless as a confused but bright individual.
References
"Into the Wild"; Jon Krakauer; 1996
Photo Credits
Ryan McVay/Lifesize/Getty Images