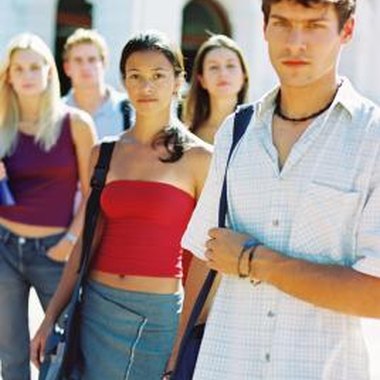 Joyce McDonald won numerous awards for her young adult novel "Swallowing Stones." The story is set in the small town of Briarwood, where Michael Mackenzie's Fourth of July birthday party results in the accidental death of Jenna Ward's father. As Jenna father repairs his roof, a stray bullet from Michael's rifle pierces the man's skull, killing him instantly. While local police search for the shooter, both teenagers struggle to deal with the consequences of the accident.
The Characters
Michael Mackenzie is a popular high-school student and track star forced to deal with the burden of causing an innocent man's death. Jenna Ward suffers from panic attacks, unreasonable guilt and a tragic sense of loneliness after her father's death. Joe, Michael's best friend, plays Devil's Advocate when he convinces Michael to remain quiet about his involvement in the accident. Amy Ruggerio is a girl with a bad reputation and a soft heart. After losing her parents in a car accident when she was 7, Amy sympathizes with Jenna and tries to offer her some comfort. Darcy is Micheal's ex-girlfriend, and blames Amy for their break-up.
Boyfriends
Jenna finds that after her father's death she dreads spending time with her boyfriend Jason. For reasons neither understands, his presence causes Jenna to have a panic attacks. She avoids Jason during the summer, which hurts them both, but Jason patiently gives Jenna time and space to deal with her feelings. Together, the young couple realize that Jenna unconsciously feels guilty about speaking with Jason on the phone rather than asking her father in for lunch moments before he was killed.
Girlfriends
Because of his guilt and fear of being caught, Michael avoids his girlfriend, Darcy, who only wants to go to parties during the summer. Instead, he finds comfort in Amy's friendship and a strange romance begins to bloom between them. Jealous of the time they spend together, Darcy spreads a contemptuous rumor about the pair and Michael realizes how shallow and immature his popular ex-girlfriend really is. It takes time for Amy to trust him again, but in the end she encourages Michael to reveal the truth about the accident.
Realistic Fiction
"Swallowing Stones" provides numerous opportunities for readers to consider Michael and Jenna's reactions to the tragedy that invaded their young lives. Although Jenna actively wishes for revenge throughout most of the book, when she figures out that Michael is the shooter, she allows her self to sympathize with him. Micheal realizes good relationships are formed through honesty and selflessness, and he chooses to turn himself in rather than hate himself for harming innocent people.
References
"Swallowing Stones;" Joyce McDonald; 1997
Photo Credits
BananaStock/BananaStock/Getty Images