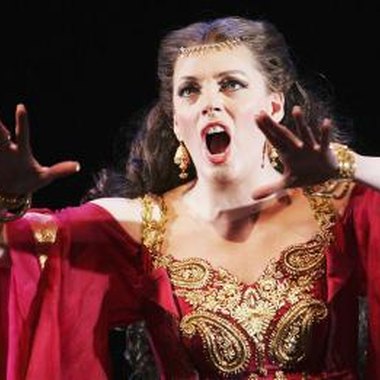 Calling on the agile skills of coloratura soprano and six Rossini tenors, Armida is an operatic tour de force for the connoisseur of heroic vocality. Setting the love of a Saracen sorceress and a crusader knight against the duty each owes to others, Armida has enchanted audiences since its premiere in Naples in 1817.
Act I; Part I
As freshly-minted Frankish commander Goffredo attempts to inspire his mourning troops following the death of their leader outside the walls of Jerusalem, a mysterious noblewoman appears. Claiming to have been unseated from her rightful place on the throne of Damascus by her uncle Idraote, Armida requests aid and safety. Unbeknownst to the crusaders, Armida is in fact in league with her uncle. They wish to capture and enslave the best soldiers in order to weaken their siege of Jerusalem.
Act I; Part II
Blinded by her beauty, the Frankish soldiers implore Gofreddo to come to her aid. He decides they must choose a new leader who will pick ten soldiers to fight for her. They choosing Rinaldo; Armida reminds him that they met once before when she saved his life. He confesses his love for her as the envious Germando looks on, subsequently insulting Rinaldo in front of the other troops. They duel; Rinaldo kills Germando. Shocked, he runs away with Armida.
Act II
Reinforced by a swarm of demons led by Astarote, Prince of Hell, the seduction of Rinaldo proceeds. They sing a duet ("Where am I?"). Armida reveals her plan; Rinaldo voices no objections despite the obvious evil intent towards his compatriots. She turns the forest into their own love nest; she conjures an entertainment where nymphs seduce a knight. Lost in love, Rinaldo forsakes his soldierly duty and surrenders completely to his love for her.
Act III, Part I
Ubaldo and Carlo come searching for their missing comrade. Much taken by the beauty of Armida's enchanted scenery, they press on nonetheless, knowing it all to be an illusion. Armida beckons nymphs to seduce them; they ward them off with a magical golden staff. Encountering Armida and Rinaldo, they hide, only emerging once she has left the scene. They confront Rinaldo; they show him his reflection in a pool of water. He is horrified at not recognizing himself as a gallant, honor-bound warrior. Trapped between honor and love, Rinaldo prays, then joins his fellow warriors.
Act III, Part II
Armida conjures all evil at her disposal to bring her lover back, but to no avail. She ventures off in pursuit of her lost lover. She meets the three as they prepare to sail away. She begs Rinaldo to return, but his comrades grab him and drag him away. Trapped between her love for Rinaldo and desire for revenge, she chooses the latter. She destroys their love nest and flies off in anger.
Photo Credits
Patrick Riviere/Getty Images Entertainment/Getty Images