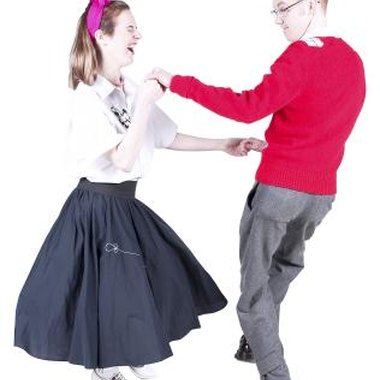 The evolution of swing dance occurred simultaneously with the development of jazz, and both art forms gained widespread global popularity. In Toronto, Ontario, a variety of annual dance and music festivals feature workshops, social events and competitions centered around this popular dance form of the mid-20th century.
Beaches International Jazz Festival
Although not exclusively a swing dance festival, the Beaches International Jazz Festival (beachesjazz.com) includes music and dance from a variety of genres and styles. Professional dancers host workshops for various skill levels throughout the festival. The workshops are free and open to the general public. The festival typically occurs over a 10-day period in the summer. Prospective participants may e-mail the festival to secure a spot in one of the dance workshops.
Toronto International Swing Dance Championships
The Toronto International Swing Dance Championships (salsacongress.com) serve as a competition for serious dancers and a workshop series for amateurs and hobbyists. The festival includes guest appearances by dance professionals, open dancing events that encourage mingling and socializing, and a multi-tiered competition for dancers on a variety of skill levels. The festival typically occurs over three days in the early months of the year.
Lindystock
Lindystock (torontolindyhop.com) is outdoor festival offering swing dance enthusiasts the opportunity to spend a weekend with fellow dancers. The festival provides each participant with food, housing, showers and bathrooms. In addition to numerous dancing events, participants can also partake in canoeing, swimming, volleyball and hiking. The festival gets its name from the "Lindy Hop," a swing dance inspired by Charles Lindbergh's flight across the Atlantic. Interested participants can purchase admission tickets through the festival's website.
Dovercourt House
The Dovercourt House (dovercourthouse.com) offers weekly swing dance classes and social dances throughout the summer months. For those wishing to learn more about swing, Dovercourt House hosts beginner dance classes on Friday nights in the months of June, July and August. Social dances take place weekly on Saturday evenings. Although these events do not technically constitute a "festival," Dovercourt House's numerous events draw large crowds of passionate dancers.
Photo Credits
Hemera Technologies/PhotoObjects.net/Getty Images