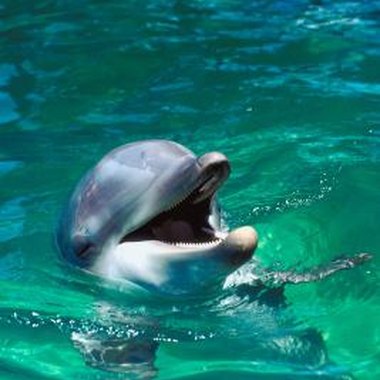 Creatures living underwater are often a mystery and observed from afar. Swimming with dolphins might seem like an impossible opportunity. But the Miami Seaquarium (miamiseaquarium.com) offers a wide variety of educational and hands-on programs for you to get up close and personal with these intelligent sea creatures, including swimming with dolphins.
Dolphin Encounter
The Dolphin Encounter caters to individuals as young as 5 years old, as well as to older adults. The Dolphin Encounter starts by teaching you about marine mammals in an interactive classroom environment. Then, you are free to put on a provided wetsuit and wade in shallow water where you will have an opportunity to pet, feed and communicate with these intelligent creatures. Opportunities are available to capture your experience with these sea mammals during their designated picture time. A the time of publication, the cost for this experience ranges from $99 to $139 and includes an admission pass to the seaquarium for the rest of the day.
Dolphin Odyssey
The Dolphin Odyssey encompasses a 15-minute didactic component and a 30-minute hands-on opportunity to feed, train and ride the dolphins. This experience incorporates free interaction time, so you will have a chance to touch, kiss, rub and play with the dolphins in deeper water. Photo opportunities, a wetsuit, towel and admission to the aquarium for the day are all included in the $199 ticket price for the Dolphin Odyssey. All participants must be 52 inches or taller and accompanied by an adult if the participant is younger than 18. Expectant mothers are not allowed to participate.
All-Day Training Experience
The all-day training experience allows you to work side-by-side with a dolphin trainer for a full day. By participating in this program, you will get to learn basic training skills, help with exhibitions and shows, eat lunch with a trainer, receive career advice for individuals interested in becoming a trainer and spend time swimming and bonding with the dolphins. Additionally, you will receive photo opportunities, a wetsuit and towel, souvenirs and free parking. You must be 16 years old or older and possess the ability to stand for at least one hour and carry 30 lbs. of weight. At the time of publication, this experience is conducted on Fridays, Saturdays and Sundays and costs $495 per person.
Other
The Miami Seaquarium offers guests the opportunity to interact with dolphins in private sessions, as well. However, a private session must be arranged via reservations prior to your visit to the seaquarium. Additionally, birthday parties, weddings, receptions, summer camps and corporate events take place at the seaquarium. If you are a Florida resident, check for discounts on dolphin encounters, as the aquarium has offered a 30 percent discount in the past.
Photo Credits
Jupiterimages/Photos.com/Getty Images