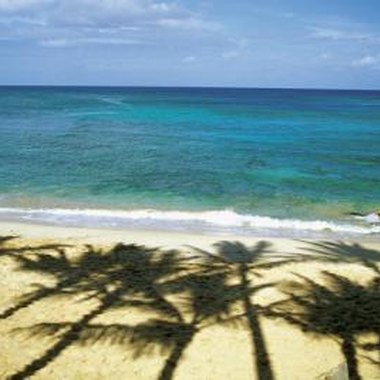 Oahu's north shore is Hawaii's "shark central." Visitors arrive from all over the world to catch a close-up glimpse of its Galapagos, sandbar, grey reef and even tiger sharks. If you dare to swim with the sharks, you can view them safely from a submersible steel cage that is provided by one of the island's shark swimming outfitters. For less courageous souls, you can view the native fish behind the rails of a touring boat.
Items you will need
Shark tour admission price

Bathing suit

Sunscreen

Underwater camera (optional)
Step

1
Find a licensed shark tour company in Oahu. Touring companies include Oahu North Shore Shark Adventures (sharktourshawaii.com), Hawaii Shark Encounters (hawaiisharkencounters.com) and Tom's Barefoot Tours (tombarefoot.com). Tours leave daily out of Haleiwa Harbor, which is part of the Oahu's north shore.
Step

2
Choose a shark tour package based on how close (or far) you want to be from the sharks. Most companies will allow you to stay on the boat for a lower price, while others charge the same amount whether you get in the cage, or not. All three touring companies use a steel cage with glass windows, but the size, capacity and strength of the cage will vary by touring company.
Step

3
Check out the age requirements if you are swimming, or bringing along children. At Hawaii Shark Encounters and Tom's Barefoot Tours, children under 5 years of age may not be admitted on the boat, while North Shore Shark Adventures does not place any age restriction on boat riding or cage swimming.
Tips & Warnings
While swimming with the sharks in Oahu during the winter months, keep an eye out for humpback whales. Throughout the year, you may also glimpse Hawaiian green sea turtles and spinner dolphins.

Make to sure to bring an underwater camera so that you can prove to your friends and family that you swam with the sharks.

For an adult cage swimmer, the price range for the approximate two-hour tour is $96 to $105. Tours leave daily, with multiple trips available, usually in the morning hours.

Passengers in the submerged shark cage use snorkels and masks to view the sharks from glass windows. While the cage is submerged, the top portion remains a few feet above the surface of the water for safety, and for grabbing air from your snorkel.

Hawaii Shark Encounters uses a submersible, quarter-inch thick Poly Glass cage with steel frame, while Tom's Barefoot Tours offers a steel cage with Plexiglas windows.
Resources
Photo Credits
Medioimages/Photodisc/Photodisc/Getty Images