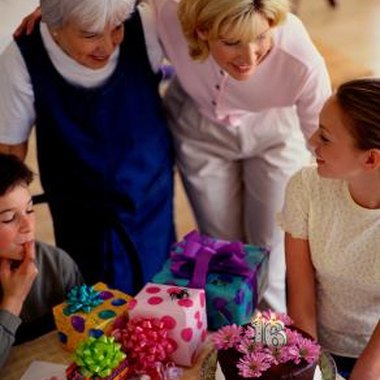 You only turn 16 once. Planning a sweet-16 birthday party can be challenging in that the party's theme should be entertaining, yet age appropriate. The state of Texas is home to an array of locations in which to hold a sweet-16 party event. In addition to venues, Texas offers a broad range of party planners and entertainment options to help make the party a success.
Spa-Themed Parties
Located in Houston, Day Spa to Go (dayspato-go.com) offers party packages that can be customized to fit the needs of the host and her guests. The mobile facility serves locations throughout the city and suburban areas and offers facials, head-and-neck massage and various beauty services designed to pamper the birthday girl and her guests. With locations in Dallas and Plano, the Spa Habitat (spahabitat.com) offers a variety of party-package options which can accommodate groups of up to 20 guests. Services include facials, waxing and head-and-neck massages and are designed to pamper.
Country and Western Themes
Texas is the heart of the South and offers an array of country western-themed birthday-party options perfect for a sweet-16 event. Dallas Disc Jockeys (dallasdiscjockeys.com) offers professional DJ services that offer an array of music styles, including country. In addition to music, Dallas Disc Jockeys will incorporate a variety of teen-appropriate games and contests into birthday-party events and includes professional lighting and karaoke services upon request. Located in Austin, Arthur Murray Dance Studios (texdance.com) offers onsite venues to host an array of events, including sweet-16 parties. The facility provides lights, sound, professional DJ services and professional dance instruction in styles including -- but not limited to -- two-step and line dance.
Formal Events
Debutant-style balls and black-and-white parties are formal events that are designed to introduce young women into society. Gilly's Music (gillysmusic.com) houses an array of venues throughout greater Dallas that are capable of hosting large groups for black-and-white parties and formal sweet-16 events. The Palladium Ballroom, which can accommodate more than 3,000 guests, offers live-music facilities and state-of-the-art sound stages in addition to formal-dining facilities. The South Side Music Hall can house up to 1,500 guests and offers large dance floors and stages for live music or DJ artists. Party-planning services are also available.
Sleepovers
The traditional sleepover can be turned into a momentous sweet-16 event with a bit of planning. Based in Amarillo, AmaCron the Entertainers (amachron.com) services the greater Amarillo area and provides customized party packages upon request. Services include mobile light, sound-and-entertainment packages in addition to appearances by celebrity impersonators. Larry Weaver Entertainment (larryweaver.com) offers a variety of magicians, jugglers and age-appropriate stand-up comics who are available to perform at parties and events, including sweet-16 parties. Performers are available to service events throughout the state, and material can be customized in honor of the guest of honor.
Photo Credits
Ryan McVay/Stockbyte/Getty Images