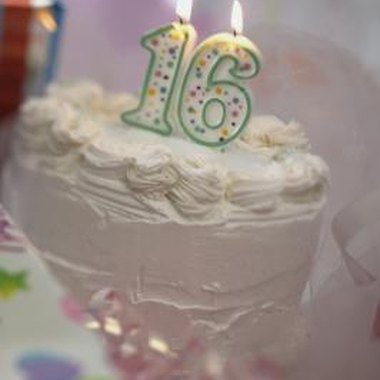 Akron, Ohio, parents have a selection of party venues to celebrate their daughter's Sweet 16. Parents can go fancy or simple to make what is a special day in a girl's life. Depending on her guest list and her interests, you could take her everywhere from the ice rink to an elegant restaurant. Akron has a variety of choices to fit varied budgets and tastes.
Restaurants
Book a private room at Papa Joe's (papajoes.com), an Akron legend that has served city residents for almost 80 years. The restaurant's VIP Room, the Tuscany Room and the Prima Vera Room provide a private venue where families can enjoy an intimate Sweet 16 with family and friends. The restaurant, on Akron Peninsula Road, has lunch and dinner banquet menus filled with Italian specialties. Families who want an elegant yet intimate Sweet 16 party can reserve a private area in Fleming's Prime Steakhouse & Wine Bar on Medina Road. Fleming offers party planners the option of selecting one of their set dinner menus for a private celebration, or creating a customized menu in conjunction with the restaurant's private dining directors. A Sweet 16 at Fleming may include a full meal or a reception with hors d'oeuvres.
Exciting
Energize a Sweet 16 celebration at a local skating rink. Canton's Center Ice Sports Complex (centericesports.net), 29 minutes outside of Akron, provides a dynamic venue for an energetic and fun Sweet 16 party. Guests who skate can get out on the ice for an hour or two of skating followed by a festive meal at a local eatery. If you prefer roller skating, bring the party to the G.F.S.E. Cade (gsfecade.com) in Akron. If your Sweet 16 includes more than 25 guests, ask the rink about hosting an after-hours party. You can skate with your guests and then retire to the rink's events room to continue your celebration. The events room includes a sound system, DJ area, raised platform and kitchen facilities.
Community Parks
Metro Parks (summitmetroparks.org), serving Summit County, are located throughout Akron and offer pavilions for rental for parties from 40 to 150 guests. Food-preparation facilities and setup depend on the location. Bring all the food and cake the Sweet 16 girl and her friends can devour in an afternoon. In Akron, pavilions are located at Firestone Metro Park, Goodyear Heights Metro Park and Sand Run Metro Park.
Party Rooms
Bring your guests to an events hall where you can work with the management and caterer to create exactly the type of Sweet 16 that you and the Sweet 16 girl want. Waterloo Restaurant and Catering (waterloorestaurant.com) has three private party centers that you can choose from. Their caterers will prepare exactly the type of menu that you and your daughter want. Todaros Party Center offers a choice of event rooms in which you can set up your Sweet 16 celebration. You can select from a range of dining options, from breakfasts and brunches to a full-course evening buffet or sit-down dinner.
Photo Credits
Comstock/Comstock/Getty Images