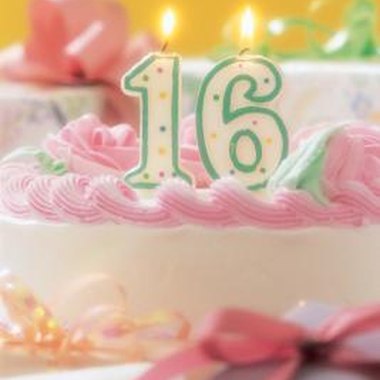 Before choosing a venue for your sweet 16 party, determine what type of party you want to have and approximately how many guests will attend. This information will help you choose the perfect venue for your party. Grand Rapids offers multiple venues for a sweet 16 party. A large party may require an outdoor space or a formal ballroom, while a smaller party may be held in a restaurant or at a non-traditional location.
Ballrooms and Reception Halls
Multiple hotels in Grand Rapids have ballrooms fit for a sweet 16 party. The Ramada Plaza (ramadaplazagr.com) offers two ballrooms that hold around 150 people each and offer a 24-by-30 foot dance floor. In downtown Grand Rapids, the Amway Grand Plaza Hotel (amwaygrand.com) offers ballrooms that are able to hold up to 650 guests and include hand-painted ceilings and chandeliers. A dance floor and DJ table are included with every rental. Mosaic Space (mosaicspace.com) has multiple spaces to hold a sweet 16 party. The venue includes on-site catering and an in-house DJ.
Museums
The museums of Grand Rapids offer unique spaces to host a party. Grand Rapids Public Museum (grmuseum.org) has a galleria with large dance floor, carousel and outdoor courtyard. The museum requires its own catering service be used for parties. Located on the Grand River, the Gerald R. Ford Presidential Museum (fordlibrarymuseum.gov) allows guests enjoy a river view while touring the museum and Betty Ford gardens during the party. The exhibits at the Grand Rapids Art Museum (artmuseumgr.org) create an artistic backdrop for a sweet 16 party. In addition to indoor spaces, the museum offers Pocket Park, an outdoor space with a water wall and outdoor terrace.
Outdoor Parties
During the spring and summer months, hold a sweet 16 party outdoors at one of Grand Rapids' parks or other outdoor locations. Frederick Meijer Gardens and Sculpture Park (meijergardens.org) offers party spaces in its beautiful gardens and greenhouses. The indoor spaces have large windows to give guests views of the gardens as well. John Ball Zoo (johnballzoosociety.org) offers after-hours rentals that include a large party tent and animal handlers who walk around with animals for guests to touch. For some parties, zoo exhibits and rides remain open.
Restaurants
Restaurants offer spaces for a smaller sweet 16 party and offer on-site catering, making it easier to focus on the other details, such as decorations and music. Noto's Old World Italian Dining (notosoldworld.com) offers banquet space that holds up to 700 guests. Food options include traditional Italian and southwestern options. The Chop House (thechophouserestaurant.com) offers private dining rooms to accommodate up to 40 guests for a smaller sweet 16 party. Food options include a variety of seafood and steaks.
Fun Party Spots
For teens who prefer a non-traditional sweet 16 party, Grand Rapids has a few attractions to allow them to enjoy a fun night out with friends and family. Rent out the ice at the Edge Ice Arena (edgegrandrapids.com) and celebrate your sweet 16 by playing a game of ice hockey or broomball. Craig's Cruisers (craigscruisers.com) offers a pavilion for rent that holds up to 500 guests. Spend your sweet 16 party riding go-karts, playing mini golf and enjoying the fun center's other amenities.
Photo Credits
Comstock/Comstock/Getty Images