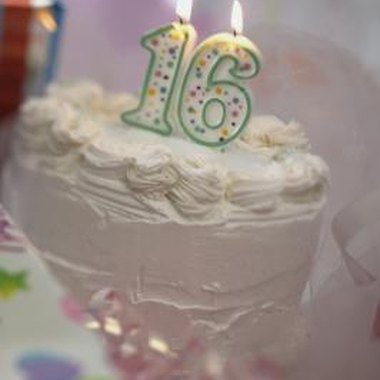 Red, white and black as a sweet 16 color scheme portrays a more formal atmosphere and oftentimes guests are asked to wear only black and white, while the birthday honoree wears red. These colors leave much room for various party themes and decoration ideas to make the party memorable for not only the birthday person, but her guests as well.
Theme Ideas
A casino party adheres to the red, white and black color scheme and can provide entertainment for the party guests. For those who are Broadway buffs, a "Phantom of the Opera"-themed sweet 16 also includes these colors. For those celebrating their birthdays in February, a Valentine's Day theme is appropriate, as is a Hollywood paparazzi event complete with a red carpet, theater roping, cinema reels, clapper boards, gowns and black-and-white suits.
Decorations
If choosing a theme, use that inspiration for decor. For example, a casino-themed event can be decorated with enlarged playing cards; clubs, spades, hearts and diamonds; and poker chips. Give each male guest a white "Phantom of the Opera" mask and the female attendees a red floral clip for her hair to align with the theme and color scheme. For a more general decoration option, hang twisted red, black and white streamers from the ceiling adorned with balloon bunches in the same bunches. Use alternating black and white tablecloths on the guest tables with red floral centerpieces.
Party Favors
Have decks of playing cards customized with the party details and the honoree's name and date from a novelty or printing company. Another idea is to offer black sunglasses, red scarfs and faux necklaces to align with a Hollywood paparazzi theme. In lieu of giving party favors, give each guest a favor box to fill at a candy buffet table that includes red, white and black candy-coated chocolate pieces, mints, licorice and lollipops.
Food and Beverages
Contract a chocolate fountain and use white chocolate in it, offering strawberries, marshmallows and dark chocolate pieces for dipping. Decorate a two- or three-tiered cake with red, black and white fondant pieces aligning with the chosen theme or just covering the cake with white icing and piping alternating red and black beads of icing along the cake seams. Serve strawberry vinaigrette on the first-course salads. For dessert, along with the cake, serve strawberry sundaes with vanilla ice cream, chocolate sauce and strawberry topping.
Photo Credits
Comstock/Comstock/Getty Images