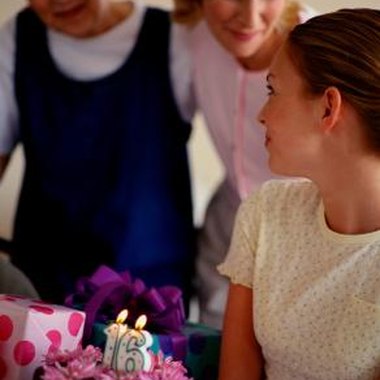 Throw a Sweet 16 birthday party for your friend or loved one that involves meaningful gifts for the birthday girl. You can even include the party guests as gift recipients. Plan elaborate activities for all party guests. Arrange for activities that go above and beyond the games a partygoer would typically expect.
Hot Air Balloon
Send your friend or loved one flying high as part of her 16th birthday party. Allow her to take a small group of friends as guests on a hot air balloon ride. The ride itself can be a gift to the birthday girl as well as the friends. Additionally, you can have a gift basket waiting inside the hot air balloon for the group. Fill the basket with non-alcoholic sparkling wine, glasses, a video or still camera, sunglasses, cheese, crackers and other snacks.
Spa Treatment
Treat a young lady and her close friends to a day of relaxation and pampering as part of her Sweet 16 birthday party. Send the ladies to a local spa or salon to participate in treatments such as facials, massages, manicures, pedicures, haircuts, hair coloring, hair extensions, eyelash extensions, makeup applications, spray tanning or hairstyling. Give the birthday girl and guests a full day of treatments or pick from just a few. Pair this birthday activity with gift baskets for each girl full, featuring a robe, flip flops, lotion and a headband.
Scavenger Hunt
For those with a larger budget, send your loved one and her friends on an entertaining and rewarding scavenger hunt as part of her Sweet 16 celebration. Rent a limo to transport everyone from one clue to the next. The clues may lead to the birthday girl's favorite places. At the location of each clue, place a gift for just the birthday girl or for everyone. Each clue can lead to a bigger and better gift. If you have an even bigger budget, the final clue can lead to a large Sweet 16 birthday party with even more friends as well as the ultimate gift for a 16-year-old, a new car.
Photo Booth
Rent a photo booth as a way to entertain and provide gifts to the birthday girl as well as her Sweet 16 party guests. Throughout the party, guests can capture creative photos in the booth. Give the guest one copy to keep and place a second copy in a scrapbook for the birthday girl to keep. Once a guest takes a photo she can add it to the book, then write her name and a birthday message next to the photo. Copies of the photos can be used as favors for guests. Each guest can also take home a long, rectangular frame in which to keep the photos.
Photo Credits
Ryan McVay/Photodisc/Getty Images