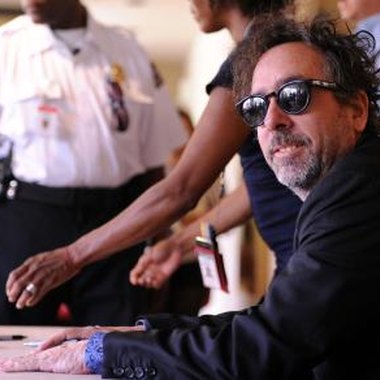 The story of Sweeney Todd first appeared in a Victorian tale called "The String of Pearls: A Romance." Since then it has been immortalised in a ballet by Sir Malcom Arnold, a Broadway musical by Stephen Sondheim and several films, including the 2007 adaptation of the Sondheim musical directed by Tim Burton and starring Johnny Depp.
The Story
According to the original Victorian penny dreadful (a serialised story, normally lurid and sensational), Sweeney Todd was a barber who murdered his victims by pulling a lever on his chair and sending them tumbling through a hole into the basement where they would break their necks on the stone floor. Other interpretations have him slitting their throats first with a razor. His partner in crime, Mrs. Lovett, would then serve up the victims in pies to customers in her bakery. Todd's barbers shop was located at 186 Fleet Street in London, a building which still stands today.
The 1928 and 1936 Films
Sweeney Todd appeared in a silent film in 1928 starring Moore Marriott in the title role. This is the earliest surviving film adaptation of the story as an earlier version from 1926 was unfortunately lost. In 1936 Sweeney Todd hit the silver screen again -- this time with sound -- and starred Tom Slaughter, an English actor famous at the time for portraying maniacal characters in macabre films. The film was produced by George King Productions, a company that made countless horror films and murder mysteries during the 30s including "The Man Without a Face" and "The Crimes of Stephen Hawke."
The 2007 Film
In 2007 director Tim Burton, who has always favored the weird and the macabre, chose to bring the Sondheim musical of Sweeney Todd to the big screen. He cast his long time collaborator Johnny Depp in the title role with his partner Helena Bonham-Carter as Mrs. Lovett. It featured upwards of 25 songs from the Sondheim musical, all of which were performed by the actors themselves including Depp and Carter and the supporting cast which included Sacha Baron Cohen, Timothy Spall and Jamie Campbell Bower.
Critical Reception
The film was well received by critics, receiving a rating of 86 percent on the film review site Rotten Tomatoes. Even the lyrical talents of the cast surprised critics, with David Benedict of "The Guardian" remarking on "the sheer expressive power issuing forth from Depp's lungs." At the box office the film took an impressive $152,523,164 worldwide against an estimated budget of $50 million. The film picked up two Golden Globe awards for Best Motion Picture -- Musical or Comedy and Best Actor -- Musical or Comedy, as well as an Oscar for art direction.
Resources
Photo Credits
Frazer Harrison/Getty Images Entertainment/Getty Images