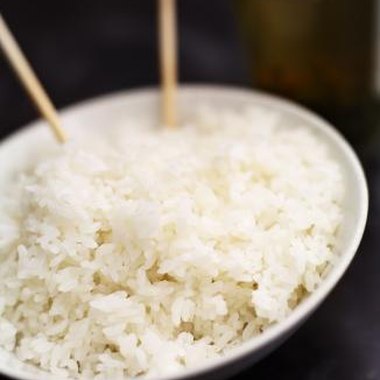 "Survivor"-themed parties take on another dimension when you incorporate different aspects of the show into your gathering. "Survivor" games and costumes are one way to keep things amusing and entertaining. Another way is to serve food based on the program. While "Survivor" contestants are not known for eating a delectable diet, foods shown on the show or dishes from a "Survivor" season's region make for great munchies at your party.
Rice
Perhaps the most common food eaten by "Survivor" contestants is rice. Players receive about a cup of rice per day and must sometimes survive on this alone. True fans of the show will recognize the symbolism if you serve rice as a party dish. Give them a small ration, or make them eat it with their hands to further mimic the show. If you want to spruce up the dish, make it Spanish rice by adding some spices and seasoning.
Fish
Contestants on the show who want more to eat than the small rice portion often make their way to the nearby water source in search of fish. You may not be able to find the types of fish "Survivor" contestants eat at the grocery store. However, you can still add a "Survivor" touch to the dish. Serve a full fish that hasn't been skinned to replicate the way players on the show must handle it. Salmon, trout and tilapia are three possibilities.
Chicken
On some "Survivor" seasons, players have been given chickens to keep at camp. Many try to hold onto the chickens for eggs, but sometimes a lack of food forces players to eat the chickens. At a "Survivor" party, serving a rotisserie chicken, which comes nearly full-bodied, will give partygoers the feeling of what show contestants go through.
Corn
For a vegetable, corn makes an appropriate party dish. "Survivor" contestants received rations of corn during some seasons. Corn is easy to prepare and also adds some color to your party spread.
Regional Food
If you want to serve food a little more exciting than straight "Survivor" fare, cooking some dishes from the regions featured on the show gives you a chance to be creative. "Survivor" has been filmed in Brazil, Panama, China, Australia and Africa, among other locations. Involve guests by making the party a potluck. Assign each person a "Survivor" country or region and have the guest bring a dish native to that region. Dishes might include couscous (Africa) or "shrimp on the barbie" (Australia).
Photo Credits
NA/Photos.com/Getty Images