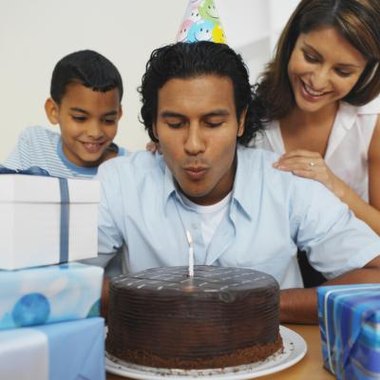 Turning 40 is a milestone that is often marked with a big surprise bash in honor of the birthday boy. If you're planning a surprise party for a man turning 40, it's crucial to consider his preferences and personality. Plan activities, choose a venue and invite guests that will positively contribute to his comfort and enjoyment of the event.
Venue
Wherever will be the most convenient and fun for the birthday boy is the best choice. If he doesn't go out much, a surprise party at home is advisable. If he is a big party animal and has lots of friends, hold the party at his favorite pub. For an instant entertainment source, rent a skybox at his favorite team's stadium and surprise him with a catered party inside. For a movie buff, rent a movie theater equipped with kitchen facilities and serving staff.
Activities
If the birthday boy is an alcohol aficionado, purchase 40 kinds of wine or beer from around the world and let guests sample them. Hold a roast and instruct guests to come prepared to poke good-natured fun at the guest of honor. Rent a karaoke machine and have a singing contest. Schedule the party to coincide with the big game. Connect a large projection screen to your TV and set it up in the backyard. Set out beach chairs and provide snacks. Create a list of questions about the birthday boy and pass them out to the guests. Make the questions funny and age-related (but not embarrassing), such as "How old were you when you had your first kiss?" When everyone is finished, take them up and ask the birthday boy each question. Give a small prize to the guest with the most correct answers.
Food and Drink
Ascertain the guest of honor's gastronomic preferences before planning the menu. He may prefer a big outdoor barbecue, with steaks and hearty sides such as mac and cheese. If he'd want to cook with his guests, provide the ingredients for making sushi rolls or homemade pizza. If you want to keep costs down, have every guest bring her own favorite fast-food meal. Order pizza or Chinese food for everyone. If you don't want to have a big meal, stick to easy-to-eat finger foods such as chips and dip, a veggie and cheese tray, small sandwiches and birthday cupcakes with the number 40 in icing on top.
Themes
A theme can make the surprise party an even bigger hit. Tell every guest, even women, to come dressed in typical birthday-boy fashion, whether that's shorts and trainers or a business suit. Use the number 40 as the theme. Invite 40 guests, give him 40 gifts and play songs from the Top 40. Have a "retro" theme -- ask guests to go back in time 20 years to when the birthday boy was still just a 20-year-old kid. Play music from his youth, decorate the venue like a university dorm room, create a cardboard replica of the car he had back then and arrange for surprise guests such as old roommates.
Photo Credits
Stockbyte/Stockbyte/Getty Images