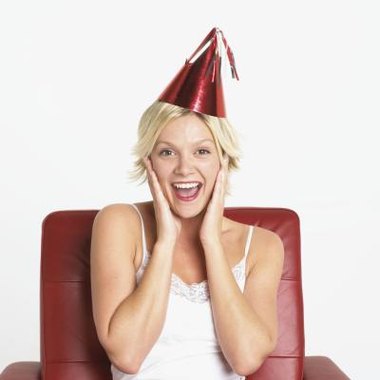 It doesn't matter what age the birthday girl is; a surprise birthday party can turn an average birthday party into something truly memorable and magical. Planning a surprise party may take a bit of extra effort, strategy and creativity, but if you pull it off, you'll make the birthday girl feel extra special.
Considerations
Ensure that the birthday girl will actually like the surprise element of the evening. If surprise-party-hungry friends ignore the genuine wishes of the most important guest, your night could end in disaster. If your birthday girl is adamant that she doesn't want a birthday party thrown for her, don't do it. If your birthday girl hates surprises or surprise birthday parties, don't plan one. If it's not something she'll actually enjoy, you'll see a look of horror rather than delight when everyone yells, "Surprise!"
The Ruse
To pull off a surprise party, you'll need to do everything you can to convince her that you aren't throwing her a surprise party. Depending on your relationship with the birthday girl and her personality, you can make this as cruel or kind as possible. For the tough-skinned girl, pretend like you haven't planned anything at all for her birthday, or simply have forgotten all about it. For a more-sensitive gal, explain that you have planned something low-key. Recruit a few trustworthy, mutual friends to help you carry out the pre-party plans.
The Invitations
Make sure the guests understand clearly that it's a surprise party, and that they aren't to mention the party to the birthday girl. Let them know the precise window of time to arrive at the destination. If they get there too late, they could ruin the surprise. If adult guests are driving to the party, instruct them to park their cars a bit away from the party destination. If your birthday girl spots a familiar-looking car, it could ruin the surprise. Offer tips to each guest individually. For example, if you're telling the birthday girl that you are planning a low-key dinner, have various guests offer their apologies to the main guest, claiming that they are previously engaged.
Themes
For the birthday girl who loves a bit of drama, stage a kidnapping. Wear a Halloween mask or ski mask, blindfold your birthday victim, and bring her to the party. Or, make it all about her. Take her out for a day at the spa before you lead her, unaware, into the party room. Make the party destination a place the birthday girl will really appreciate, like a favorite restaurant or theme park. Alternatively, throw her off the scent even further by putting it at a completely random location, like a venue she's never been to. If she's a homebody, make it a house party. Use foods, beverages, music and colors that she'll love.
Record the Moment
The climax of the evening happens when the birthday girl unknowingly walks into her own party. When you and your guests jump out of hiding and yell, "Surprise!" make sure somebody has a camera handy. Better yet, have someone record video. It'll be a delight for the birthday girl to see her expression when she realized what was happening. Remember, showing her how much you care is your real gift to her, so you should try and preserve it.
Don'ts
Don't invite friends from the past that your friend may not want to actually see. Don't let her walk into her party wearing something that she'll regret when she sees the photos, or that might not be appropriate for the party venue. Don't let your invitees forget that it's meant to be a surprise. And don't get so involved in the planning and the ruse that you inadvertently make the birthday girl feel lonely or unwanted.
Photo Credits
Brand X Pictures/Brand X Pictures/Getty Images