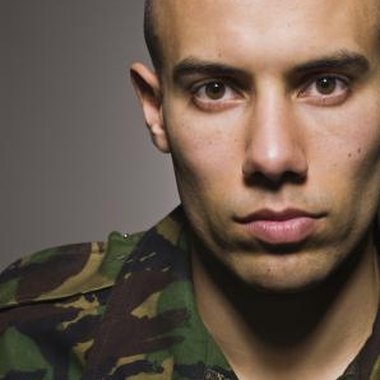 Surprising a boyfriend in the Army can be difficult, because soldiers are often abroad or in training, and their schedules are unpredictable. However, there are ways to do it with careful planning. The surprise will depend on whether the boyfriend's station is overseas, in a combat zone or at home. It will also depend on whether he lives in barracks, off-post or far away. The best surprises for a boyfriend in the military are those that take his needs into account.
Items you will need
Pictures of boyfriend's family

Pictures of you

Scrapbook

Scrapbook stickers

Markers or colored pens

Glue stick

Boyfriend's APO address

Care package
Scrapbook
Step

1
Choose a scrapbook that is masculine and suits your boyfriend's personality. You can also choose Army-themed scrapbook items or stickers that match the pictures that are going into the scrapbook, such as beach stickers for beach pictures.
Step

2
Lay out pieces of scrapbook paper and begin gluing pictures onto them with a gluestick. Use pictures of your boyfriend's family, friends, favorite places back home, pets and you. Add captions beneath the pictures using markers or colored pens.
Step

3
Add stickers to the pages to fill in the gaps around pictures, and then place the pages in the scrapbook. If you have mementos that your boyfriend might appreciate, such as concert ticket stubs and favorite restaurant menus, glue them into the scrapbook as well.
Step

4
Buy a box that's sturdy and that the scrapbook fits into snugly. This box will help the soldier transport his scrapbook safely when he moves into other barracks or changes duty stations. It will also help him hide his scrapbook so he can miss his family and still look tough to his Army buddies.
Care Package for Deployed Boyfriend
Step

1
Get the APO address for your boyfriend if he's overseas. Before purchasing items for a care package, find out if there are any prohibited materials specific to his area of deployment. You can get this information from his home base. You can't send items that are illegal in the country in which he's deployed. The Army also prohibits items such as illegal substances or alcohol.
Step

2
Your boyfriend will probably need hygiene items, such as baby wipes, toothbrushes, socks, unscented deodorant and underwear. Remember, all clothing items have to be Army standard. Any food items should be non-perishable, such as beef jerky.
Step

3
Include pictures, books and magazines in the care package. Your soldier may also want video games, cards or movies. Don't include pornography.
Step

4
Get your boyfriend's family members and friends to him. You can also ask local school-age children to draw pictures and make cards for him. If possible, go to a local sports autograph-signing event and add something from his favorite local player.
Step

5
Wrap everything in the care package carefully. Make sure the box has filler. It may have a long way to go before it reaches your boyfriend. Mail it to his APO address. Make sure you're using the correct address.
Tips & Warnings
If you are able to visit your Army boyfriend, do that instead of sending a gift. A visitor from home is the best surprise he can get.

If you're unsure about the legality of a care package item, don't send it.
Photo Credits
Jupiterimages/Polka Dot/Getty Images