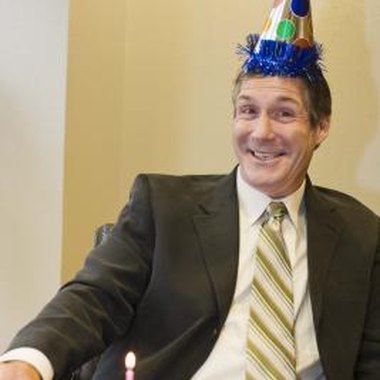 If you have a friend or family member turning 50, don't ignore the occasion. After all, reaching 50 years of age is nothing to scoff at. If the 50-year-old has a new cantankerous attitude, don't let it scare you. Throw him or her a surprise party to commemorate his or her descent into middle age. Keep it simple based on your budget, and give the guest of honor a party to remember for years to come.
Gold Party
Gold signifies 50th milestones, such as birthdays or anniversaries. Make theme of the party gold. Book an area of a restaurant or bar a month before the event. Invite the guests at least a month in advance. Decorate the area of the restaurant or bar in gold-colored streamers and decorations. Get gold-colored balloons, too, and tie them with gold-colored ribbons. You can even get a gold-colored cake. Tell the guests to wear gold-colored clothing and gold jewelry. Ask the guests to yell "surprise" as the guest of honor walks into the bar or restaurant. Be careful, though; you don't want to give the guest of honor a heart attack. He or she is 50, after all.
Birth Year Party
Since the guest of honor is turning 50, celebrate the year in which he was born. Ask the guests to wear clothes from that year. For instance, if someone was born in 1961, wear clothes from the '60s. Have someone take him or her out for drinks or a movie so that you can decorate the house. Decorate the house with things from the '60s such as cars or album covers. Hang movie posters from those years. Make sure you have the popular music from that time so that you can play it all night. Learn a few dance steps from that era and encourage the guest of honor to dance and get into the spirit.
Over the Hill Party
This joke has been done for many years, but it still makes people laugh. Ask someone to get the guest of honor out of the house. Hang signs that say things such as, "It's all downhill from here." Get a birthday cake that says, "You are old." Serve prune juice along with regular drinks. Get creative and add props such as dentures or reading glasses. The point is to make the party humorous. But don't make the guest of honor angry. Make sure he or she has a good sense of humor before you do something like this.
Hotel Party
Make sure you plan this well in advance. Figure out how many guests you will be inviting and get a room big enough to accommodate all of them. Rent a suite if you have the money. Decorate the room beforehand with 50th-birthday banners and streamers. Get 50th-birthday balloons. Stock up on food and drinks. Don't forget a cake that says "Happy 50th Birthday." Ask the guest of honor's spouse to pretend he or she is renting a hotel room for the two of them. Make sure the guests hide before the birthday boy or girl arrives. They can jump out when the guest of honor turns on the lights.
Boat Party
The guest of honor may enjoy being on the open water. Call charter companies in your local area at least two months before the event. Figure out what size boat you will need for the event based on the number of people attending. Decorate the boat and have the guest of honor's favorite foods and beverages on hand. Tell the birthday boy or girl that you are going to take a walk along the water together, and then surprise him or her by bringing him or her onto the boat.
Photo Credits
Jupiterimages/Creatas/Getty Images