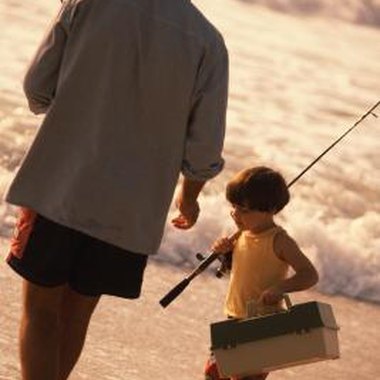 Black snapper, also known as black bass, gray rock fish or red snapper, are fish that can be found along the west coast of North America from Malibu to Alaska. Although normally caught from fishing boats while trolling for salmon, you can also catch black snapper along Northern California's rocky coastlines and breakwater, a method known as surf fishing.
About Black Snapper
Black snapper have a compact, oval-shaped body with a sharply angled head, a large mouth and protruding lower jaw. Their backs are brown to black in color, with black spots on their dorsal fins. Their sides and bellies are pale to dirty white. Although they look very similar to blue rock fish, their anal fins, found at the back of the body, are round whereas the blue rock fish's anal fin is straight.
Where to Surf Fish for Black Snapper
If you're fishing for black snapper in Northern California, head for Point Delgado in Humboldt County, located approximately 200 miles north of San Francisco. Point Delgado is a popular fishing spot in the southern end of Humboldt County. Fishermen can try their luck at the Point's beach, or Dead Man's Creek. This area is also good for perch fishing. Point Delgado is located in the community of Shelter Cove, off of Highway 101. Take the Redway exit, then go west on the Briceland/Shelter Cove Road toward Whitethorn. Stay on Briceland, pass the Whitehorn exit and continue on to the coast.
Black Snapper Bait
The natural diet of a black snapper consists of small fish, crab eggs and squid, so when fishing it works best to bait two or more hooks with similar foods. You can use cut up fish, mussels, shrimp, clams or squid on two hooks. You can also use artificial lures, including wet flies.
Surf Fishing Techniques
To surf fish you will need to set up your fishing rod with a weighted, two-hook rig, the appropriate bait, an eight- to nine-foot rod and reel. Ask at a local bait shop for the right line strength for current ocean conditions, as black snapper fight on the line when hooked. Bring a sand spike -- a piece of PVC pipe -- to stick in the sand to hold your rod, keeping it out of the sand. Cast near rocky outcroppings and kelp beds, where black snapper like to congregate. Cast your bait out into the surf and draw it back in like a fish swimming from a predator.
Photo Credits
Stockbyte/Stockbyte/Getty Images