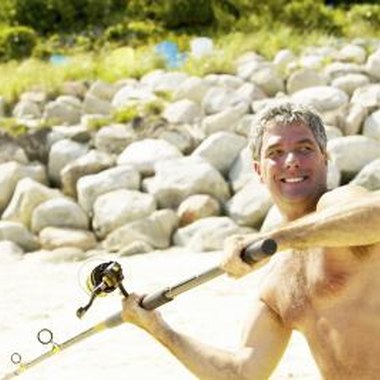 Surf angling for striped bass is an intense fishing experience. Stripers are aggressive, strong and will challenge the equipment and skill of surf anglers. Successful surf fishing requires timing and a methodical approach to locate and catch the fish. Catching striped bass in the surf requires patience, experience and luck.
Gear
Heavy-duty surf fishing rods are mandatory for when it comes to surf angling for striped bass. The rods provide the leverage needed to make a long cast and provide the strength to land an athletic striper. Surf rods are categorized by by weight; a rod for 15-to-20-lb. lines is adequate. All surf rods have a long handle for two-hand casting and a thick-diameter butt section. In addition to the rod, a large spinning reel spooled with 15-to-20-lb. test line is ideal for fighting stripers.
Seasons
Stripers can be fished in the ocean all year, but the fall and spring seasons provide the best surf opportunities. The striped bass follow baitfish migrations into the surf during the fall and spring months. The result is a series of feeding-frenzy situations that are ideal for anglers. Spring is also the spawning time for stripers, and the fish are accessible by fishing the surf around estuaries and river mouths. The fish spawn in the mixing zones where fresh and saltwater collide.
Finding Stripers
Luckily, locating stripers isn't difficult. There are instances when the fish will cruise undetected. Continue fishing when fish aren't visible to avoid missing a low-key school. Scan the surf and walk the beach until fish are visible. The level of visibility ranges from water with unnatural rippling to the intense wave-crashing visibility of a feeding frenzy. Binoculars are a valuable tool for scanning the water and locating fish.
Catching Stripers
Catching stripers is accomplished with live or artificial bait. Fishing with live herring, eel, mullet and squid works well. Large artificial lures are also used to imitate stripers' food sources. Fishing with the artificial lures requires less time for preparation and maintenance, but the live bait provides natural scent and is more likely to attract fish from a distance. Both methods are effective when fishing a school of stripers. Locating the fish before casting is often the recipe for striper success.
Photo Credits
Dynamic Graphics/Dynamic Graphics Group/Getty Images