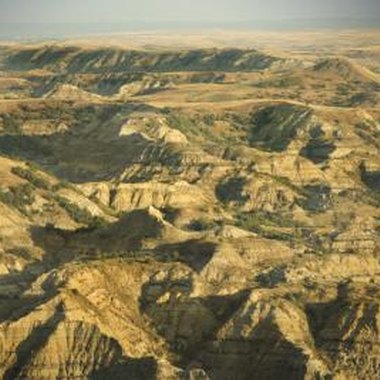 Budget-friendly Super 8 operates motels in 6,000 locations in more than 20 countries. The chain's motels in North Dakota offer economical, no-frills accommodations in most areas of the state, with concentrations in larger cities and along the Interstates. A few Super 8 motels located off the beaten path in less traveled parts of North Dakota cater to sportsmen and sightseers.
Fargo
Super 8 operates four motels in the Fargo area. All offer free high-speed Internet access and continental breakfast. Properties at West Acres Mall, in Moorhead to the east of Fargo and West Fargo allow pets for an additional daily fee. The Super 8 located at the airport has a swimming pool. Room rates are lowest in West Fargo, and at the motel in Wahpeton, 45 miles away. The I-29 West Acres Mall property, located in an area with hundreds of shops and restaurants, offers suites with microwave ovens and mini-fridges. The Super 8 in Lisbon, about 75 miles southwest of Fargo, provides guests with free premium cable.
Interstate 94
Interstate 94 runs east/west through central North Dakota, connecting Fargo with the Montana state line. Located at exit 258, about 100 miles west of Fargo, Jamestown Super 8 allows pets and offers free high speed Internet access. Valley City, at exit 292, is 34 miles closer to Fargo. The Super 8 provides access to the Sheyenne River Valley and a National Scenic Byway. Super 8 Bismarck, at exit 159 in the middle of the state, offers pet-friendly rooms with queen-sized beds. Dickinson is in the far western region of the state near the Theodore Roosevelt National Park, home of North Dakota's legendary badlands. Near exit 61, Super 8 is 35 miles from the park and ½ mile from the Dakota Dinosaur Museum.
Northern
Super 8 Minot is a 58-room motel adjacent to a restaurant and three blocks from Minot State University. Minot International Airport is half a mile away and Minot Air Force Base is within two miles of the motel. The property offers weekly rates and accepts pets for an additional daily fee. Bottineau, located not far from the Canadian border in central North Dakota calls itself the "Four Seasons Playground of North Dakota." Super 8 Bottineau, adjacent to a Super Walmart, offers truck and RV parking. The chain also operates motels in Devil's Lake, and in Grand Forks.
Western
Williston, north of the Little Missouri National Grassland at the confluence of the Yellowstone and Missouri rivers, is the location of a number of museums and historic sites celebrating westward expansion. Super 8 Williston, a mile from the Frontier Museum, has an indoor pool and game room. Bowman, south of the Little Missouri Grassland, is about 30 miles east of Marmath, Dinosaur Capital of North Dakota. The 31-room Super 8 Bowman offers free high-speed Internet and premium cable television.
References
Photo Credits
Thinkstock/Comstock/Getty Images