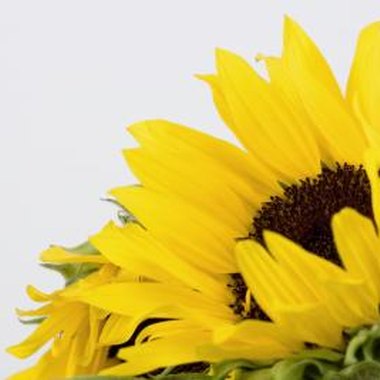 Clarksville, Mo., dresses up in yellow in late July for its annual Sunflower Days. This tiny farming town of about 500 invites artists and other beauty seekers to explore the place where its founders set down roots at the halfway -- and highest -- point of the Mississippi River, between the Gulf of Mexico and the U.S. border with Canada.
Sunflowers Aplenty
During the spring, residents and business owners throughout Clarksville can pick up fresh, free sunflower seeds at Cool Beans Coffee House in the downtown district -- if they don't already have plenty from last year's crop. They can even choose between a short, quick-blooming variety or others that bloom in colors other than yellow. By late July, the farm-lined roads into town and many a home and storefront are bedecked in the towering flowers. Throughout downtown during the festival, artist displays, beekeepers' demonstrations, children's activities and food vendors provide visitors with the standard festival diversions.
Artist Magnet
Dozens of landscape artists take part in the Sunflower Days/Paint Clarksville painting competition, which at time of writing required a fee of $25 per entry. Staking out locations that yield just the right color and composition, the artists and their easels dot Clarksville's landscape during the festival, with the results turned in by noon on Sunday for judging by the public and the awarding of prizes. Artists can win up to $500 for first place. Keep in mind before you enlist: The town's motto is "Unhurried, unspoiled and uncommon." Try to reflect it in your work.
Specifics
For further information about the Sunflower Days art competition and show, the Clarksville Artist Guild's contact is Kevin Massiglia, who can be reached at 618-972-6535 or massiglia@gmail.com. You must pay your registration fee by Saturday morning of the festival weekend; the price includes a Saturday lunch. For more information about the Sunflower Days festival, contact City Hall at 573-242-3336. Peruse the breadth of the city's downtown vendors, many of whom operate arts-centric businesses, by navigating to the "Visitor Information" section of the city's website.
The Annual Lineup
Sunflower Days is only one annual event staged in Clarksville. The town also hosts events such as Eagle Days in January, a Mardi Gras Pet Parade and an art studio tour in March, a City Wide Yard Sale in August and an Applefest in October that hails another city staple.
Photo Credits
Jupiterimages/Polka Dot/Getty Images