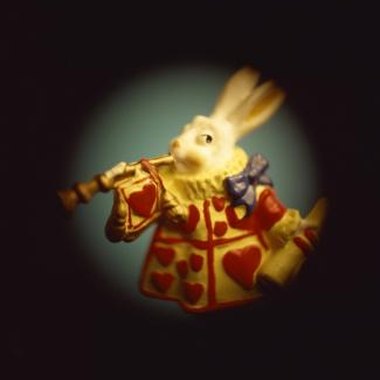 The 2010 film "Alice in Wonderland," directed by Tim Burton, is a retelling of the classic tale. Burton's version involves an older Alice taking on more adult responsibilities. It has a dreamlike, dark quality that is common to Burton's movies. The film was a box office success around the world.
Characters
Tim Burton's "Alice in Wonderland" features many of the same characters as other versions of the story do. In this movie, however, Alice is in her late teens, rather than a little girl. She is returning to Wonderland for a second time, where she meets the Mad Hatter, the White Rabbit and the Queen of Hearts again, along with a host of other Wonderland personalities. There is some question in the start of the movie whether Alice is the same Alice who as a little girl visited Wonderland years, before she fully remembers being there in her childhood.
Storyline
Tim Burton's "Alice in Wonderland" starts with Alice, a young adult, running away from an offer of marriage and falling, again, down a hole into Wonderland. She arrives in time to fulfill a prophecy that she would return to fight the Jabberwocky, a giant being belonging to the Queen of Hearts. It takes her most of the movie to believe that she is the same Alice who was in Wonderland years before, and that she will be able to physically fight the Jabberwocky.
Differences from Other Versions
Alice is older in Burton's movie than in other versions of the story, and she's making her second trip to Wonderland. Some of the events from other versions, such as Alice drinking and eating substances that make her grow and shrink, are part of Burton's version. Alice's relationship with the Mad Hatter in this movie has a sexual tension that is missing from other versions. The fight with the Jabberwocky is also new.
Reception
Tim Burton's "Alice in Wonderland" did good business in the United States and other countries. With a budget of $200 million, it grossed $116 million in its US opening weekend alone. It was the first U.S. film of 2010 to earn more than $300 million. It was nominated for three Oscar awards, and it won for Art Direction and Costume Design. The soundtrack was awarded a Grammy award, and the film was nominated for and won many other awards.
Spoiler
From her battle with the Jabberwocky, the Alice in Burton's movie gains courage that follows her to real life outside Wonderland.
Photo Credits
Jupiterimages/Comstock/Getty Images