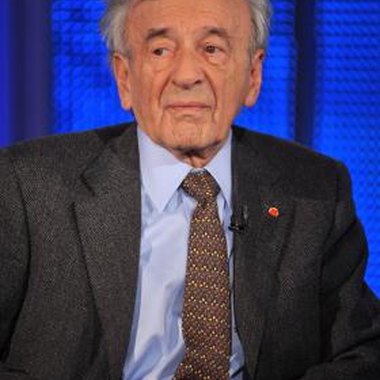 "The World Was Silent" by Elie Wiesel is a book about life in a concentration camp during World World II. Abridged into a shorter edition, and sold under a different name ("Night"), the account became an international best-seller and classic book. Its author has used the book -- and others he has written -- to keep the memory of Holocaust victims alive.
Author
Romanian-born Elie Wiesel, a Holocaust survivor, is the author of 57 books, most of which are based on his experiences living and surviving in Nazi Germany. In addition to winning the Nobel Peace Price, Wiesel is also the recipient of the Presidential Medal of Freedom and the Congressional Gold Medal, two of the highest ranks that can be bestowed to civilians. In the aftermath of World War II, Wiesel did not have the emotional strength to write about life in a concentration camp, but eventually changed his mind when Francois Mauriac, another winner of the Nobel Prize, convinced him to record his memories.
The World Was Silent
"The World Was Silent" was the precursor to Wiesel best known book, "Night." Written in Yiddish and more than 800 pages long, "The World Was Silent" was Weisel's memoir about his life in the Buna, Buchenwald and Auschwitz concentration camps. The title refers to the world's failed strategy of appeasement for neutralizing Hitler and the Nazi regime and failing to intervene as millions of Jewish people, among others, were deprived of liberty and civil rights, tortured and murdered.
Night
"The World Was Silent" eventually was shortened to 120 pages and published in the United States under the name "Night." Told through the eyes of a Jewish teenager, Eliezer, "Night" recounts how Jews living in Eastern Europe were deported to concentration camps and separated from their families and then treated cruelly. While not a memoir in the strictest sense, Wiesel used his own experiences to craft Eliezer's storyline. Once the concentration camps are liberated by the U.S. Army, Eliezer is plagued with survivor's guilt, which prompts him to question his faith in a higher power and leaves him wondering whether parts of him have died and whether a new persona has been born.
Acclaim
At first, Weisel had a difficult time finding a publisher due to the depressing nature of his account. Eventually, interest in the book picked up including media outlets who wished to interview Weisel. Now translated into 30 languages, "Night" is known as a classic, must-read book. An estimated 10 million copies have been sold since the book was first published in 1960. Forty-six years after "Night" was first published by Hill & Wang, Oprah Winfrey placed the book on her book club reading list, sparking immense renewed interest in the book, which led to 80 weeks on the "New York Times" best-seller list.
Photo Credits
Henry S. Dziekan III/Getty Images Entertainment/Getty Images