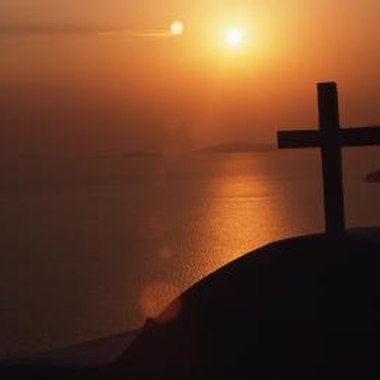 "The Life You've Always Wanted," by John Ortberg, offers guidance to Christians for improving their spiritual discipline. Ortberg focuses on seven practices that he says can help humans become more Christ-like creatures. He uses the slogan of the Morphin' Power Rangers, "It's morphing time," to urge readers to change. He then explores the seven practices in detail.
Celebration
Ortberg urges readers to count their blessings. He points out that too often the cares of the world weigh upon people and they forget how truly blessed they are. For Ortberg, joy is not an extra, it is essential in life.
Slowing
The author suggests that readers look for opportunities to slow down and contemplate. He sees waiting in line at the grocery store as one of these opportunities, and even says people should pick the longest line so they'll slow down. He goes on to suggest that readers occasionally spend time in solitude, so that they can eliminate the noise of the world and allow the Lord to enter their hearts.
Prayer
Ortberg encourages readers to set aside a specific time each day for prayer. He says Christians should develop this discipline by starting with small prayer sessions and gradually extending the amount of time spent praying.
Servanthood
The book urges readers to build up others and stop focusing on themselves. He goes so far as to suggest that people should do tasks without expecting thanks, and that they should focus conversations on others and not themselves.
Confession
According to the author, Christians should reflect on their sins. He says people should examine why they do bad things, and think about the people they hurt. At the end of this process, he asks readers to realize God has forgiven them.
Secrecy
Christians should not always tell others about their experiences, according to Ortberg. He claims that spiritual experiences between an individual and God should be kept secret, much like husbands and wives keep secrets from the world. He urges the practice of secrecy to get over the need for approval from others.
Reflection on Scripture
Ortberg offers this advice regarding scripture: Don't read the Bible too quickly. Stop and contemplate the meaning of short phrases. He says this will allow God to speak to the reader regarding scripture.
Parting Advice
The author urges readers to keep Jesus in their hearts at all times.
Photo Credits
Jupiterimages/Photos.com/Getty Images