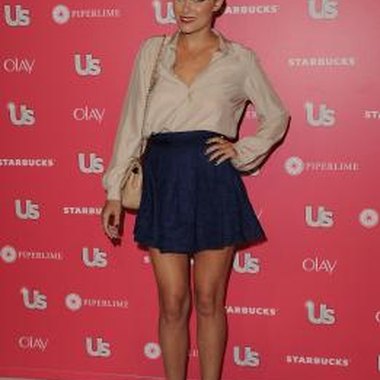 Using her personal experiences as a guide and for inspiration, reality star Lauren Conrad wrote "Sweet Little Lies" as a follow-up to her first novel, "L.A. Candy." In "L.A. Candy" the reader is introduced to Jane Roberts, a driven, but nice, young woman who moves to Los Angeles for an internship. While in Los Angeles, Jane is discovered and cast in a reality show. "Sweet Little Lies" tells the story of what happens when Jane's life takes a dramatic turn in the world of Hollywood.
Summary
Picking up where "L.A. Candy" leaves off, "Sweet Little Lies" finds protagonist Jane Roberts starring in a reality show with her best friend Scarlett Harp. Starring on the show brings Jane fame and access, but comes with strings attached: the paparazzi. Problems arise when scandalous photos of Jane turn up in the tabloids and when Jane seeks help from her so-called friend and co-star Madison Parker, who is the very person who leaked the photos to the press. Meanwhile, Scarlett finds herself in a love triangle, hopelessly in love with someone whom she has to keep a secret -- even from Jane. Eventually the truth surfaces in both Jane's and Scarlett's lives, which makes for great television, but leaves them wondering whether they want to continue living their lives in front of the lens.
Lauren Conrad
Conrad is best known for starring on the reality show "Laguna Beach," after which she was given her own spin-off, "The Hills." Conrad studied fashion at the Fashion Institute of Design & Merchandising in Los Angeles, where she lives, and has developed her own fashion lines including "LC by Lauren Conrad" for Kohl's department stores. In April 2011, Conrad launched a new website, "The Beauty Department" with her make-up artist Amy Nadine that features trends in the beauty industry and which capitalizes on the public's growing interest in hair and make-up tutorial videos.
Books
As of June 2011, Conrad is the author of four books with several more on the way. Her first three books are a trilogy about Jane Robert's life in Hollywood: "L.A. Candy," "Sweet Little Lies" and "Sugar and Spice." Her fourth book, "Lauren Conrad Style" is a coffee table book that highlight's Conrad's style, taste and knowledge of fashion. The next set of Conrad's books is slated to revolve around Jane Robert's nemesis, Madison Parker, who is a social climber.
Success
"Sweet Little Lies" found success in the marketplace. Popular among young adult readers, the book is a bestseller, having appeared on the New York Times bestseller list.
Resources
Photo Credits
Jason Merritt/Getty Images Entertainment/Getty Images