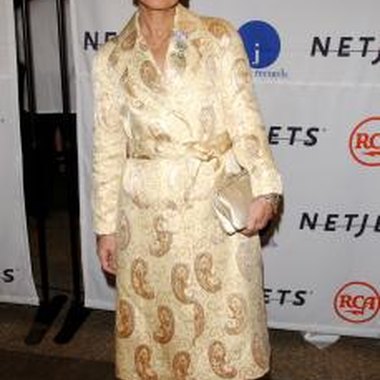 In romance writer Danielle Steel's 2007 novel "Sisters," the lively and loving siblings of a Connecticut family survive and thrive during a year that begins in tragedy and ends with hope and optimism. After an unforeseen and unimaginable crisis leads the women to move into a Manhattan brownstone together, a tumultuous year ensues. Love, loss and laughter are on the agenda for a remarkable family when these very different young women join forces under one roof. By the time the Fourth of July rolls around near the end of the book, things are looking up for the four Adams sisters.
The Story
Every year the Adams sisters go home to Connecticut for Independence Day weekend, but one particular family gathering is struck by a tragedy. A car accident kills the family matriarch and leaves artist Annie blind. Suddenly, four sisters who have been fervently pursuing success and their own lives are living together in a New York brownstone to support one other and their father. One sister struggles to heal body and soul, but all of the women have pieces to pick up, and futures and priorities to reconsider. Thus begins an unscripted year in a bustling house full of laughter, tears, friends, men, dogs...and the honesty and unconditional love that only sisters share.
The Characters
Of course a book called "Sisters" is dominated by distaff siblings. Candy, Tammy, Sabrina and Annie are all that sisters can be -- as well as a few things they should not be. Until the unexpected tragedy, each sister is off doing her own thing. Candy is a globetrotting international supermodel. In Hollywood, Tammy produces the hottest show on TV. New York sister Sabrina, the oldest, is a lawyer with ambition. Way off in Italy, far-flung sister Annie is an artist in Florence. The tragedy throws the young women all together with a shared mission of supporting their father and helping their broken sister begin to heal, but each woman gets her moments to shine, to falter, to support and to be supported.
The Theme
Daneille Steel's familiar, insightful treatment of family relationships is set against one of her most popular and universal themes: how real-life challenges transform people, typically for the better. With compassion, she creates sisters who love and laugh, struggle and triumph and are irrevocably tied. Steel blends humor and heartbreak and reminds us of how fragile life can be and resilient we are.
About the Author
Danielle Steel is the best-selling author of more than 80 novels that have been translated into 28 languages. She wrote her first novel at age 19 and sometimes works on up to five books at a time. She writes her first drafts on a 1940s manual typewriter.
Photo Credits
Frank Micelotta/Getty Images Entertainment/Getty Images