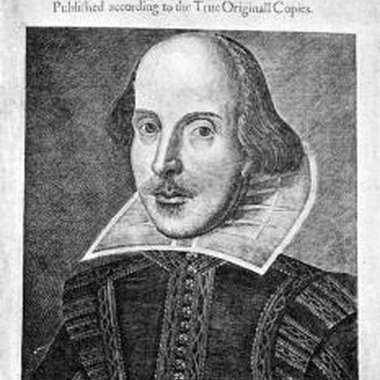 "Henry VIII," presumed to be the last play written by English bard William Shakespeare, was first performed between 1612 and 1613. It tells the story of King Henry VIII, who in history became more famous for his six wives than his political achievements. Shakespeare's play only summarizes the first two of Henry's marriages and the political conspiracies that evolved around his divorce.
Act 1 -- Political Conspiracies
The first act opens with the Duke of Buckingham, the Duke of Norfolk and Lord Abergavenny criticizing recent political events that involved Cardinal Wolsey. Shortly after, Buckingham is arrested on false charges of treason trumped up by Wolsey. In the meantime, Henry VIII thanks Wolsey for discovering Buckingham's treason, and Queen Katharine arrives to plea for Buckingham and against a tax. The tax is revoked, but an employee of Buckingham claims that the accused had conspired to the throne, which results in a trial for the Lord. Later, everybody arrives at a dinner party thrown by Wolsey, where the king catches sight of Anne Bullen.
Act 2 -- Divorce Proceedings
Buckingham is sentenced to death and graciously forgives his enemies. His death sentence is not popular, but soon there are new issues to discuss as rumors reach the court that Henry and Katharine are expected to separate as as result of Wolsey's dealings. Henry is desperate for a son, and Wolsey uses the situation to plan a new marriage between Henry and the French King's sister that would cement his political plans. Henry starts his divorce proceedings against Katharine, who protests against her treatment. While Katharine awaits council from the Pope, Anne Bullen is promoted by Henry and receives an annuity.
Act 3 -- Wolsey's Downfall
Norfolk and other lords start to conspire against Cardinal Wolsey while the King reads some papers that accidentally have been included in a package addressed to him. The papers are an inventory of Wolsey's possessions, and Henry is surprised to discover that the cardinal is more interested in worldly rather than religious matters. Wolsey falls into disfavour with Henry, and in a showdown with Lord Norfolk and his friends, he is reminded of all the scheming and conspiracies he masterminded to establish his power. Wolsey is then told by his assistant Cromwell that the King secretly has married Anne Bullen and that a coronation is planned for the new queen.
Act IV -- Death of Wolsey and Katharine
Through a conversation between two gentlemen, the audience learns that Katherine has been divorced from the king and that there have been several political rearrangements. Among others, Wolsey's former assistant Cromwell has received a high position at court. In the meantime the former queen, Katharine, is told of Cardinal Wolsey's sudden death due to an illness shortly after his arrest. She takes ill herself and dies.
Act 5 -- A New Princess
While the new Queen Anne is in labor, new political conspiracies are begun at court, where Cranmer, the new Bishop of Canterbury, has become unpopular. Cranmer is aware of his unpopularity, but Henry informs him that he is safe when it is announced that the queen has given birth to a girl. At the council chamber claims are made that Cranmer is a heretic and should be sent to the tower. Henry joins the council and defends Cranmer against the accusations. He announces that Cranmer will baptize his new daughter, who is given the name Elizabeth. The play ends with the baptism of the baby princess, who will grow up to become Queen Elizabeth I, monarch during most of Shakespeare's own life.
Resources
Photo Credits
Photos.com/Photos.com/Getty Images