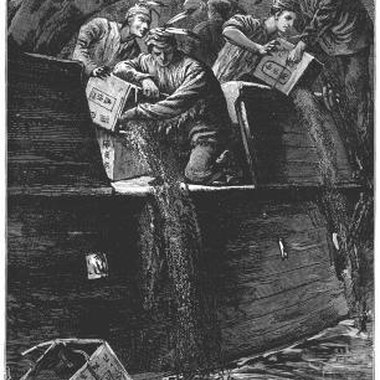 Written by Peter D.G. Thomas in 1991, "Tea Party to Independence" won the 1992 Society of the Cincinnati prize, which is awarded every three years for the best nonfiction work on the American Revolution. Subtitled "The Third Phase of the American Revolution, 1773-1776," the book describes the period between the Boston Tea Party and the Declaration of Independence from a British policy standpoint.
Background Information
"Tea Party to Independence" was written by Peter D. G. Thomas, a professor of history at the University College of Wales in Aberystwyth. The book is part of a three-book series that includes the "British Politics and the Stamp Act Crisis 1763-1767," which was written in 1975, as well as "The Townshend Duties Crisis 1767-1773," written in 1987. All three books were published by Clarendon Press.
Thesis
"Tea Party to Independence" is an examination of British policymaking in respect to the American colonies. The British policies discussed in the book cover the British policy reaction to the Boston Tea Party in 1773 through the signing of the Declaration of Independence in 1777, a tumultuous time between the two nations. While written from a British perspective, "Tea Party to Independence" explores the lead-up to the American Revolution from both vantage points.
Talking Points
In "Tea Party to Independence," Thomas discusses the foreshadowing of the American Revolution, including the limitations of British policymaking during the colonization and the consequential constitutional demands (and later military action) of the American colonists. Thomas writes that both the British and the early American colonists failed to find a working policy agreement; the British policies were too limited in scope, but the colonists failed to adequately respond or provide an alternative.
Readership
"Tea Party to Independence" is a scholarly work that is geared toward British and American historians, but its appeal is universal to readers of all knowledge bases. The book caters to scholars of the 18th century, American Revolution buffs and political and constitutional historians. Thomas also authored "John Wilkes: A Friend to Liberty," "Revolution in America," "Politics in Eighteenth-Century Wales," "Lord North," "George III: King and Politicians 1760-1770," "Sources for Debates of the House of Commons, 1768-1774" and "The House of Commons in the Eighteenth Century."
Resources
Photo Credits
Photos.com/Photos.com/Getty Images