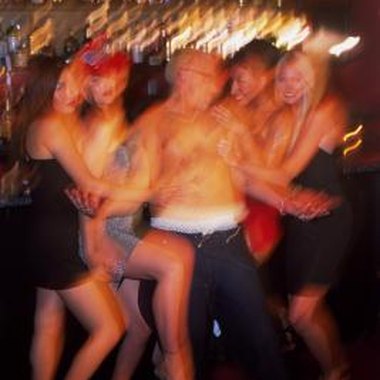 "Party Girl" is a young adult novel by Lynn Ewing published in 1999 by Knopf Books. Suggested reading for grade seven and up, "Party Girl" tells a dark tale of loss, revenge, and escape. Ewing is also the author of "Drive-By," the Daughters of the Moon series, the Sons of the Dark series and the Sisters of Isis Series. Ewing resides in Los Angeles.
Setting
"Party Girl" is set in contemporary Los Angeles. Much of the short novel's action takes place in the housing project where the main characters live with their often-absent parental figures. "Party Girl" is written in the first-person past tense, in which the action is from the perspective of the main character. Los Angeles is home to several active gangs, and the location was chosen to give the book a realistic feel, as well as to accurately reflect and raise awareness regarding the plight of young men and women who turn to gang life.
Characters
"Party Girl" is narrated by Kata, a 14-year-old girl growing up in Los Angeles. The book's plot is set in motion by the murder of Kata's best friend, Ana, who came to the United States from Mexico in elementary school. Kata's alcoholic mother also features prominently in the book as a sad and disturbed figure, detached from raising her daughter, who invites a stream of different men into their home and offers little moral support to her daughter. Kata finds a family of her own making in the gang she joins, where she and Ana meet their respective boyfriends and find moral and emotional support. It is suggested that Ana's home life is markedly different from Kata's -- Ana's mother and sisters are model citizens, and their perfection makes Ana feel inferior.
Plot Summary
"Party Girl" opens with Kata describing Ana's funeral. Both Kata and Ana are 14 years old, and they both belong to the same Los Angeles gang. Kata and Ana love to dance, and they call themselves "Outrageous Chaos" on the underground nightclub circuit, where they compete and often win the go-go dancing competitions. One night, Kata convinces a reluctant Ana to go with her to a comparatively big dance competition, and the duo wins again. Waiting for their transport home, Ana reveals to Kata that she is pregnant, but the baby is not her boyfriend's. Kata and Ana are cautiously optimistic about the pregnancy, because many girls they know try to become pregnant in an effort to quit gang life and earn money from the state. While they talk, rival gang members appear and shoot Ana, killing her and her baby. Kata is desperate with grief and vows to avenge the murder of her best friend. Her fellow gang members provide her with protection and a gun, while her mother offers her little support, let alone awareness of her situation. Kata ultimately realizes that seeking revenge will not bring Ana back, and her thirst for violence dies down, although not before several more of her friends are killed in gang confrontations. Kata quits gang life and swears never to go back, though it remains unclear how she plans to evade the rival gang members who remain on her trail in an effort to eliminate her as well.
Suggested Reading and Resources
Readers who enjoy "Party Girl" may also like "Drive-By," another novel by Lynn Ewing that portrays gang life. Jimmy has always looked up to his older brother, but when he is killed in a drive-by shooting, Jimmy realizes that he was a gang member himself, and soon becomes inextricably entwined in "the life" as well. Also check out "Living the Life," the 2000 movie based on "Party Girl." Jay Hernandez, Katrina Gibson and Melida Prado star in this adaptation of the novel, whose screenplay was written by Ewing.
Photo Credits
Thinkstock Images/Comstock/Getty Images