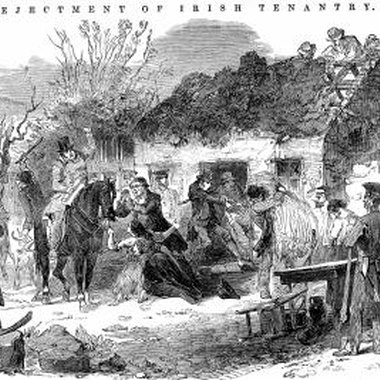 "Nory Ryan's Song" is set during An Gorta Mor, The Great Hunger, which took place in Ireland from 1845 to 1852. This historical fiction novel -- fictional writing that is based on true events -- follows a family as they struggle to survive this horrible period. Before writing, author Patricia Reilly Giff traveled to Ireland to gather stories and then, as she explains, went back home to write by the photograph of her deceased Irish grandmother. Hoping that she could retell history as it really happened, Giff wrote "Nory Ryan's Song" for readers both to learn from and enjoy.
Background
Twelve-year-old Nory Ryan and her siblings live in Maidin Bay, Ireland. They are staying with their grandfather while their father is away fishing to earn money. Even though the family owns their land and house, now under British rule, an Englishman, Lord Cunningham, requires the Irish people to pay taxes. If they do not pay, they could lose their home and land. The Ryan's farm of one pig, two chickens and potato fields have helped them endure, though Nory hopes her family can eventually travel to Brooklyn, New York, where life seems easier.
Conflict Arises
One night, Nory wakes to a smell in the air, only to discover that their potatoes are rotting. Granda frantically digs, looking for any partially grown potatoes that have not yet been struck by the blight. Unfortunately, the food that has sustained the family for so many years is now gone. Nory's mother had died in childbirth several years before, Da is still at sea and one of her sisters, Maggie, gets married and moves to America, so Nory tries to hold together what is left of the family.
Problems Continue
All of Ireland is affected by the potato blight. Since their main means of income was destroyed, the Irish people have no money with which to pay rent, and the English take their farm animals and grain. People scavenge the shores for edible seaweed and fish to feed their families, but soon that is all gone too. They are starving in their own homes. Granda and Nory's sister, Celia, leave to find Nory's father. In the meantime, Nory and her younger brother, Patch, move in with their older neighbor, Anna.
Surviving
Making and selling a shawl for money and climbing high to retrieve eggs from a bird's nest, Nory shows incredible resourcefulness. Fortunately, despite the fact that horrible living conditions continue, Nory comes upon a bit of luck. Her friend, Sean Red Mallon, offers to take Patch to America, where he is going with his mother, and Lord Cunningham falls ill and requests help from Anna. Nory receives a ticket to America, and knowing her friends and family are taken care of, she can leave without guilt, the dream of being together in America with her entire family now within reach.
References
"Nory Ryan's Song"; Patricia Reilly Giff; 2002
Photo Credits
Photos.com/Photos.com/Getty Images