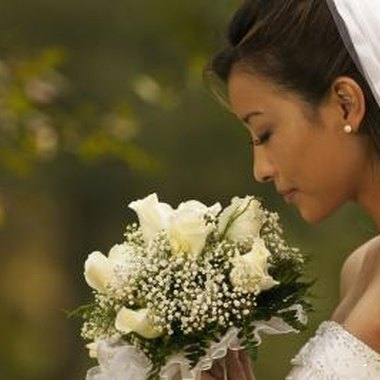 "My Best Friend's Wedding" is a romantic comedy that came out in 1997. Written by Ronald Bass and directed by P.J. Hogan, the movie tells the story of a woman (played by Julia Roberts) who doesn't realize she loves her best friend until he is about to marry another woman.
Synopsis
When Julianne Potter's longtime best friend announces he is getting married, she realizes she loves him. With only a few days until the wedding, Potter will stop at nothing to get Michael O'Neal for herself. O'Neal's fiancee, along with Potter's gay friend George Downes, throw up a few roadblocks. The movie climaxes on the day of the wedding, when Downes convinces Potter to tell O'Neal she loves him. The film's tagline sums it up best -- "Julianne fell in love with her best friend the day he decided to marry someone else."
All-Star Cast
One of the most impressive things about "My Best Friend's Wedding" is the all-star cast, starting with Roberts. The role of O'Neal, the best friend, is played by Dermot Mulroney. His fiancee is Kimberly Wallace, a perky blonde played by Cameron Diaz. Rupert Everett plays Downes, a close friend of Potter who spends the whole movie trying to talk some sense into her. Philip Bosco, M. Emmet Walsh, Carrie Preston and Rachel Griffiths round out the cast.
Awards and Recognition
"My Best Friend's Wedding" was a commercial success, loved by critics and audiences. It won 11 awards. It was nominated for more than a dozen others, including Best Music from the Academy Awards; Best Film, Best Actress and Best Supporting Actress from the Satellite awards; and three nominations from the Golden Globe Awards, among many others. Everett won Funniest Supporting Actor from the American Comedy Awards and Best Supporting Actor from the Satellite Awards. The first song on the soundtrack, "I Say a Little Prayer (For You)," was a hit for singer Diana King on the Billboard Top 20 list.
Technical Information
"My Best Friend's Wedding" is rated PG-13 for strong language and brief sex-related humor. It runs 105 minutes. The movie made $21.68 million on 2,134 screens in North America on its opening weekend in June 2. It was made with an estimated budget of $46 million and grossed more than $299 million worldwide. The film was shot in Illinois and California. Although it was made in English, it is also available in French and Italian.
References
"1997 Movie & Video Guide"; Leonard Maltin; 1996
"The Video Detective's 1997 Guide to the Top 1000 Films of All Time"; Jim Riffel and Jacqui Brownstein; 1997
Photo Credits
Comstock Images/Comstock/Getty Images